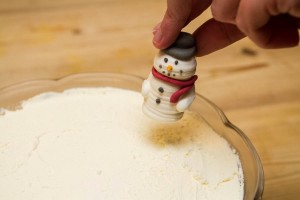 I'm not one for Christmas pudding or Christmas cake. It's a bit too intense for me. I think if I made my own my opinion may change but until then I'll stick to alternatives. It doesn't help that I despise marzipan. To make an equally lovely centrepiece I thought I'd try my hand at a festive trifle: mulled wine jelly, panettone and orange juice and softly whipped cream reminiscent of a snow scene. All it needs is some edible glitter; but they'd run out when I went to get some.
Ingredients
You will need (for 6-8 portions):
400ml mulled wine
5 sheets gelatine
100g sugar
160ml water
Few slices panettone
2 tbsp fresh orange juice
150ml double cream
Method
Make the jelly by dissolving the sugar in the water on a low heat. Put the gelatine into some cold water. Bring the sugar syrup to a boil then remove from the heat, squeeze out the gelatine and then stir it in to the sugar syrup. Add the mulled wine and stir well. Pour into the dish you'll be serving the trifle in then refrigerate until set.
When set, lay the slices of panettone on top of the jelly and drizzle over the orange juice. Whip the cream until firm and then smooth over the top of the panettone. Decorate however you like. read more