This is a perfect recipe for the long Easter weekend break. It's a celebration of Spring vegetables in the best wrapping of all…pastry. This chicken and vegetable pie is extremely versatile as you can change the vegetables depending on what is in season. It is also great for using up leftovers.
Ingredients
You will need (for one large pie to serve 4-6):
1 whole chicken
1 large onion, chopped
1 leek, sliced
Knob of butter
3 carrots, peeled and sliced
Handful kale, stalks removed and leaves sliced
1 small glass white wine
300ml double cream
1/2 chicken stock cube
2 bay leaves
Salt and pepper
Readymade shortcrust pastry
1 egg, for brushing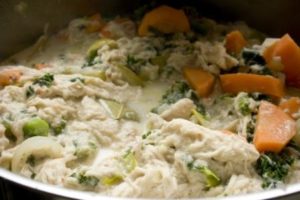 First of all, roast the chicken at 180C for an hour and a half or until cooked through. If you like, you can stuff half a lemon and half an onion inside the chicken before you cook it to give it extra flavour. 
When the chicken is done and cooled down a little remove all the meat and set aside. I had never de-boned a chicken before and I can tell you that once you've done it, you'll never look back. From now on I will always buy a whole chicken and divide it up – it's so much cheaper. The meat just fell off and I was left with a clean pile of bones and a huge pile of chicken.
Chop up the vegetables as the chicken is cooling.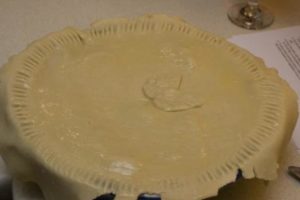 Start by frying the onion and leek in some butter until softened in a large pan. Add the chicken and fry for a few more minutes. Add the glass of wine and cook until almost completely gone and then add the cream and the chicken stock cube. Add the carrots, kale and bay leaves and season. If it is looking a little dry add some water. Leave the mixture simmering for 10 minutes or until it is as thin or thick as you like it.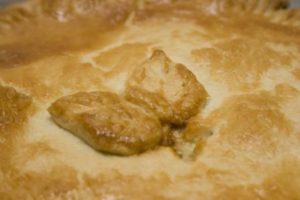 While the pie filling is cooking, prepare your pastry. I wish I had the time and energy to make my own pastry but it's nice not to have to worry and just get some ready made. If it's good enough for Delia, it's good enough for me. 
Roll the pastry out and cut into two; one piece a little bigger than the other. Line a nice big dish with the bigger half of the pastry and then put the filling inside. Use the other smaller half for the pie lid. Once the lid is on, use a fork (or your hands) to press the two halves together and brush the top with some beaten egg. 
Bake in a pre-heated oven at 170C for 30-40 minutes or until golden brown. Serve with creamy mashed potatoes and purple sprouting broccoli.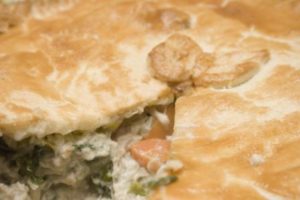 This was exactly what I wanted from a chicken and vegetable pie. It was satisfying, filling and clean. This makes such a big pie so it is great to have some in the fridge for a lazy bank holiday Monday. 

All That I'm Eating