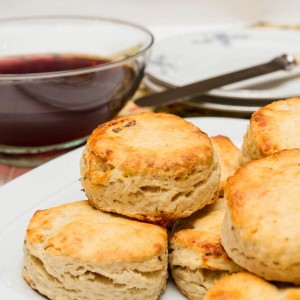 Is it just me or does everyone seem to open their fridge at some point in December and a wodge of Stilton has magically appeared? Cheese and biscuits is a must over the festive season but sometimes you can get left with an odd or and end of cheese that's not only in the way but is also stinking the fridge out. Enter Stilton scones. They take minutes to make and around 10 minutes to bake so they are a quick and simple way to use up a bit of cheese. Delicious with any membrillo, redcurrant jelly or whatever else, I knocked up some sloe port jelly to accompany these powerful scones.
Ingredients
You will need (for 10-12 scones):
240g self raising flour
Pinch of salt
Black pepper
50g butter
60g Stilton
130ml milk plus extra for brushing
For the sloe port jelly:
100ml sloe port (any other port would be good too)
60ml water
30g sugar
2 sheets gelatine
Method
Make the jelly first.
Put the gelatine into some cold water to soften.
Get a small saucepan on a low heat and add the sugar and water. Once the sugar has dissolved squeeze out any excess water from the gelatine and stir the gelatine into the hot sugar syrup. read more