I needed something slow cooked and full of goodness. Fortunately I had a fridge full of treats from the farmers' market. I had some seriously good braising steak from Challow Hill and a congregation of fantastic veg from the greengrocer.
Ingredients
What you will need (for four to six portions):
Braising steak (at least 500-750g)

Seasoned flour

Vegetables of your choice – carrots, swede, onions, leeks, pasnips – a few good handfuls of each

Potatoes – 4-6 medium

Red wine (1 small glass)

Stock (750ml)

Oil and seasoning
Method
Cut up the steaks and roll them in seasoned flour. Fry them in a pan that you can also then put in the oven. Keep all the goodness in one place. I am not fortunate to own one of these modern day contraptions.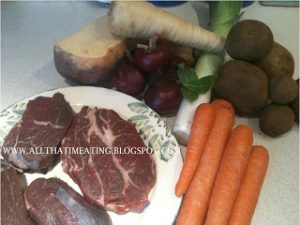 Get chopping! It's not that bad once you get going and you get lots of goodies to go straight into the compost bin. It's true when they say you don't get something for nothing.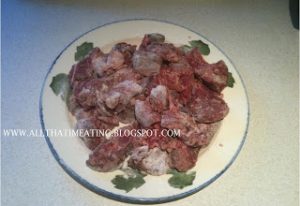 Into my cauldron of lusciousness I added a healthy (large) glass of red wine, a stock cube (I know, I'm sorry) and some water. I threw in a bay leaf for good measure and a load of seasoning. I find when I think I've seasoned enough, I season some more.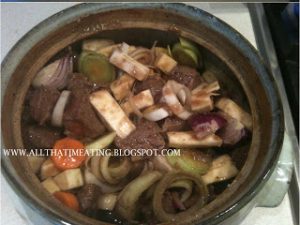 Put this into a preheated oven at about 180C. When half an hour has passed, put a tray into the oven smothered in oil/fat of your choice and let it warm up for 15 mins. While you're waiting, peel and par-boil your potatoes.
Drain the potatoes and place them on the tray with the hot oil/fat. Put them back in the oven and turn them if they're looking a bit anaemic.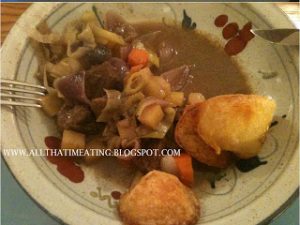 Sorted. Great flavours with a ready made gravy. Crispy potatoes to soak up all the
unctuousness. If you get a bit of bread to mop up the excess when you've finished…I won't tell if you don't.