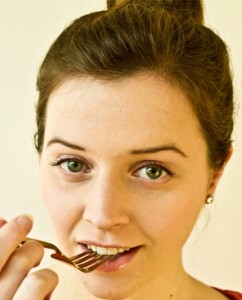 Based in deepest, darkest Berkshire I have been writing All That I'm Eating since 2010. My blog is about the food that I like to eat.
It doesn't cover absolutely everything I eat (I certainly didn't cheat and get a takeaway that night *ahem*) but I share the highlights of my culinary endeavours.
If I cook something and it doesn't quite work out I like to put these posts up too as I think they are just as useful. I cook mostly with what is in season and support local producers as much as possible. With cooking experimenting is essential and variety is vital.
Budget recipes:
The budget recipes on these pages are designed to be tasty, easy and filling but without breaking the bank. These recipes started alongside a Saturday morning show on BBC Radio Berkshire and I found them so useful I regularly come up with new budget meal ideas. You can find all my thrifty recipes here.
Meal planning:
Meal planning is something I started to do accidentally and before I knew it I was using it to run my kitchen! It's really helped me save time and money, waste less food and eat more interesting meals. Take a look at my top tips and example meal plans.
Restaurant reviews:
You will find a few restaurant reviews thrown in for good measure on my blog. There are restaurant reviews from all over the world but I tend to focus on UK restaurants. If the meal was paid for by the restaurant/PR company I will disclose this in the post and I will always give my honest opinion. You can see all of my restaurant reviews here and there's a nifty map on my 'travel' page too so you can see if I've visited anywhere near you.
Product reviews:
There are also product, ingredient and equipment reviews that you might see. I like to try out new, interesting products, some from big brands and others from the little guys. I only feature things that I think you would want to hear about and I will always be honest with what I thought of the product. I always disclose in the post if the products were sent to me to review; if I am sent something this is not in exchange for a positive review.
Sponsored posts:
From time to time you might see posts on my site featuring a brand. If I was reimbursed in any way for the post this will always be declared. I work with brands that I like, who I think fit well with what I do and would be something my readers would like to read about. Doing this helps to support me running this blog.
Travel and events:
Occasionally I go places (exciting isn't it!) and I like to write up about what I got up to. Hopefully these posts will be of some use to you should you visit the same place; ideas for where to stay, what to see and places to eat. You can use the map here to take a look at where I've been near you. To see where I've been take a look here.
Grow your own:
As with my cooking growing my own fruit and vegetables has its ups and downs. I am by no means self sufficient but I know my way round a potting shed. Me and my little vegetable patch and will pass on any green fingered wisdom as and when it arrives. Growing my own has become a huge part of my life after having no interest in gardening gloves or wheelbarrows at all (until a few years ago) I would encourage you to give it a whirl for yourself.
Actual me:
You may already know, but, I'm Caroline. I am always busy, rushing around doing something but I really enjoy it. I started my own company Caroline Taylor Communications early in 2014 and love what I do. I studied Nutrition and Food Science at University (no, there was no cooking involved) and I'm always having a try at something new!
Nice things people have said about me:
Caroline Taylor cooks inventive dishes, talks about her veg patch and reviews the odd restaurant, all with a local slant. Try her sloe and hedgerow gin taste test yourself this year – or pick up some great veg box ideas.
Olive Magazine August issue 2012.
I think your blog is great, and I like your humour. I particularly enjoyed the English Heritage Cherry Tart post.
Scott Rance, Editor BBO.
We love how important Caroline thinks it is to experiment with food. It means that her blog is jam-packed with a wide array of healthy, tasty, naughty and generally delicious ideas that we think everyone would be able to attempt in the kitchen.
Good To Know's Top Food Blogs April 2013
Awards:
Thank you to everyone who has nominated me for an award, they are very much appreciated.