Beautiful, traditional and French; a perfect meal for Valentine's Day. This one's a winner because the bottle of wine you need for the boeuf bourguignon you can then drink with the meal or yourself during the preparation as a reward for all your hard work. Being a slow cooking dish means once it's on the go you don't need to worry about it and you can get on with other things. If that wasn't enough, it's also incredible and actually quite cheap.
Preparing the meat can be as difficult or easy as you like. Valentine's Day brings out our flirtatious side and, not that I would advocate it of course, projecting a little of this new found eyelash fluttering on your butcher may result in your chosen cut being prepared for you. I'm not sure it would work with your greengrocer though. I used brisket for mine which needed a fair bit of trimming and preparing but I quite like doing that.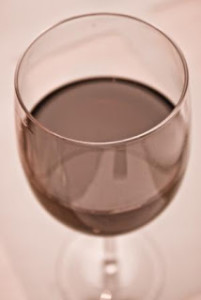 For the boeuf bourguignon you'll need some diced braising steak, brisket or other stewing beef; around 350g for two. Start by frying the beef in a little oil until brown and then sprinkling over a tbsp of flour and cooking for a few minutes. Add a sprig of thyme, two glasses of red wine and 250ml of beef stock, reduce the heat and cook for an hour. Then fry a handful of chopped button mushrooms, two or three sliced shallots, one chopped carrot and three or four rashers of diced bacon together in a pan until starting to brown. When browned, add this to the beef and continue cooking for another half an hour.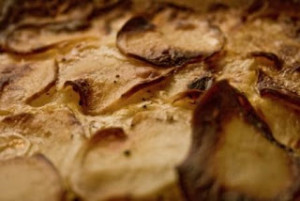 For the Dauphinoise Potatoes, peel and finely slice 400g Maris Piper or Desiree potatoes. I find it much easier to use a few large potatoes rather than lots of little ones, much less peeling. Finely chop a garlic clove and butter a baking dish. Less is more with the garlic; it's unfortunate to have garlic breath at the best of times.
Layer the potatoes in the dish sprinkling over garlic, salt and pepper and ending with a layer of potatoes. Mix together 250ml double cream with 50ml milk and pour this over the top. Cook in a preheated oven at 160C for an hour and a half.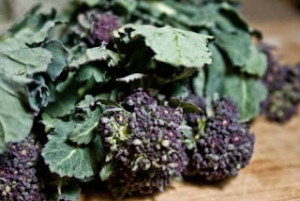 Just before the dauphinoise and bourguignon are ready bring a pan of salted water to the boil and add the purple sprouting broccoli. Cook for five minutes so they retain a little crunch. I always chop about an inch off the bottom of each stalk to prevent any chewy bits.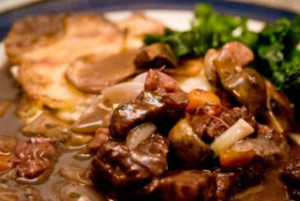 There's a little bit of everything here; deep, rich, textured bourguignon with crisp and creamy potatoes all accompanied by fresh, green broccoli. With the cold weather looking like it's going to stay, this is one to warm you from inside out.
You might think that after a dollop of beetroot risotto and a healthy helping of meat, potatoes and vegetables you'd be a little on the full side but wait until you see the pudding…