For some reason I have a bit of a thing for French food. It's the food that never fails to put a smile on my face; partly because of the flavours but also because it's a great excuse to showcase local, British ingredients in different ways. It's a funny time of year, I feel it's almost time to crack out a salad but at the same time I still want comfort and warmth. What better than the absolute classic French onion soup?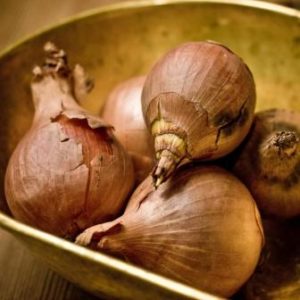 There's nothing quite like it, it wraps you up from the inside out but at the same time remains quite clean and almost guilt free. Considering it's basically boiled onions in beef stock, which doesn't have quite the same ring to it, it delivers on so many levels. There's sweetness, depth and texture with every mouthful. There are so many different ways of making French onion soup/onion soup and after looking at several versions I was able to ascertain the most important ingredients are: onions, beef stock, alcohol and Gruyère. I went into soup making with full gusto.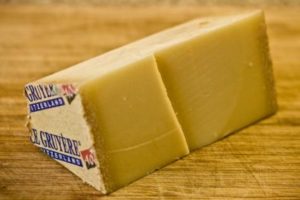 I used five very different sized onions for two people's worth of soup but when I make it again I think I'll add a few more. It's always a surprise how much the onions cook down. Slice the onions and add them to a pan with a little butter on a medium heat. All French onion soups I've ever had are devilishly dark and the onions are well and truly brown. Stir the onions occasionally until they go brown and caramelised.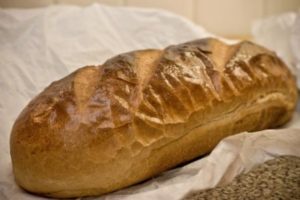 When they are sufficiently brown, add a glass of your chosen tipple (mine was white wine) and then some beef stock. Mine came in a pot of 500ml so that's what went in. Leave this to simmer on a low heat until reduced and then check the seasoning. I found it needed a fair bit of salt and pepper and the onions were so sweet I didn't need to add any sugar.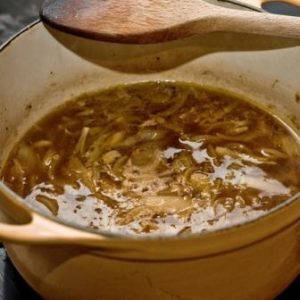 While the soup cooks, make the extra large croutons. The reason mine were so gargantuan was that I could only get hold of a white bloomer as opposed to a baguette. Nonetheless it made excellent cheese on toast. Slice your bloomer/baguette/equivalent and toast on both sides. Grate some Gruyère, put on top of the toast and grill until the cheese melts.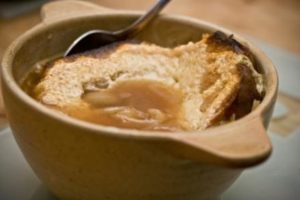 Ladle the soup into bowls and put the toast on top. The toast acts like a sponge soaking up all the deep, meaty liquid in the soup and becomes surprisingly easy to cut with only a spoon. I would advise at least two cheesy toasts per person to allow for ultimate soakage. The 
Gruyère adds a wonderful tang and the bread makes this remarkably filling.
Part of the reason I enjoy eating this soup so much is the surprise piece of onion that always seems attached to the spoon until it reaches your mouth, at which point it detaches itself from the spoon and reattaches itself to your chin. Despite the fact you might spend the rest of the evening with a small piece of the allium family stuck on your face this soup is an ultimate classic and well worth a try.