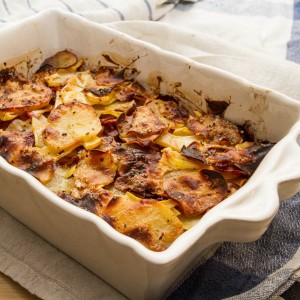 Roast potatoes are important in any roast dinner. Sometimes I find I can pay them a bit too much attention and end up spending less time on the other vegetables. This dauphinoise recipe is a great way to use some swede to make a great side dish and also incorporates potatoes so you can do a two in one. Not to be greedy but there's no reason you couldn't have this and roast potatoes for a roast!
Ingredients
You will need (for 4 as a side):
350g potato, peeled and thinly sliced

350g swede, peeled and thinly sliced

1 garlic clove, crushed

4-5 rashers smoked, streaky bacon

Oil for frying

150ml double cream

Salt and pepper

Butter
Method
Fry the bacon in a little oil until crispy then set to one side.
Layer up the potatoes, swede, garlic, bacon, and add a little salt and pepper to each layer, finishing with a layer of potatoes and swede in an ovenproof dish.
Pour the double cream over the veg then dot the top with butter.
Place into an oven at 170C for 1 and 1/4 hours or until soft through when tested with a knife.
If you find it's browning too quickly cover the dish with some foil before returning to the oven. read more