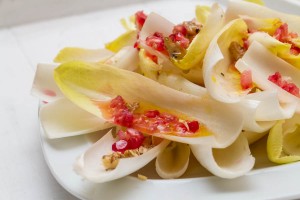 At this most wonderful time of year I would estimate that I'm around 10% booze, 20% pastry, 40% cheese, 10% bacon wrapped sausages and 20% mince meat. It's not a good look. The thought of tucking into a cucumber really doesn't appeal to me. Not at all. No. If I am in need of some cleansing and a break from all the indulgence it still has to be in keeping with the season. Hence walnuts, clementines and pomegranates all become great mates through the vehicle of chicory.
Ingredients
You will need (for 2 as a light main, for 4 as a side):
2 chicory heads
Small handful walnuts
1/2 pomegranate
2 tbsp walnut oil
1 tbsp extra virgin olive oil
1 clementine
Salt and pepper
Method
Chop up the chicory so you have individual leaves. Arrange these on a large plate so everyone can dig in.
Roughly chop the walnuts and toast these in a dry frying pan. Once toasted sprinkle these over the chicory.
Bash the seeds out from the pomegranate (or whatever method you choose) and add these to the salad.
Mix together the walnut and olive oil then squeeze in the juice of the clementine. Stir through some salt and pepper before pouring the dressing over the salad. read more