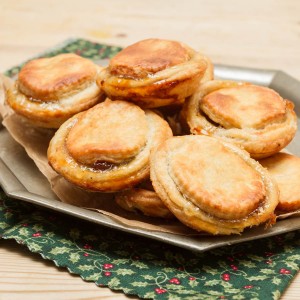 Confession time. I'm not a great fan of mincemeat. It's just a bit too strong for me. Having said that I am a big fan of the mince pie; so long as there's more pastry than mince. To mellow the minciness of these mince pies I have mixed the mincemeat half and half with marmalade. There's also some orange zest in the pastry to give them a real citrus zing. I think if someone had given me this less intense mince pie as a child I would have been more inclined to eat the whole thing rather than just the pastry.
Ingredients
You will need (for 12 mince pies):
225g plain flour
120g butter
Zest of one orange
Cold water
130g mince meat
130g marmalade (all the better if it's a whisky marmalade)
Milk or egg for brushing
Method
Make the pastry by rubbing the butter into the flour until you have a breadcrumb texture.
Stir through the orange zest.
Bring the mixture together with little drops of cold water until it forms a ball. Knead quickly on a floured surface then wrap in cling film and refrigerate for 30 minutes.
Roll the pastry out on a floured surface until just less than the thickness of a £1 coin. Cut out 12 rounds (fluted or plain) with a cutter that will fit your tin and then 12 smaller rounds for the lids. I used an 8.5cm and 6.5cm cutter.
Preheat the oven to 220C.
Use the larger rounds to line bun tins. read more