As much as it's lovely to have plenty of ideas for food to cook with a festive feel you can't very well just make do with mulled wine for the month of December. No indeed. At some point in my life I went from having no spirits in the house to being on the verge of opening a drinks emporium. It seems to have crept up on me (I'm sure it has to everyone) and I have all sorts of odds and ends to do something with. The brandy is being used to make sloe or damson port but the four different gins I have going on need to be used up. It's getting ridiculous.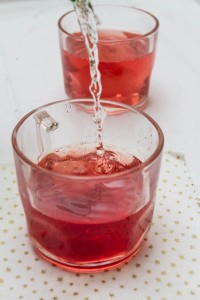 Ingredients
You will need (per drink):
37.5ml damson (or sloe) gin
1 lychee from a can plus 3 tsp of the syrup
Champagne to top up
Method
It's not particularly complicated but who can be bothered with all that exuberant shaking when you've just eaten a disgraceful amount of roast potatoes?
Pour the gin into a glass; over ice if you'd like. Plonk the lychee in with the syrup then top it up with Champagne.
You might want to play around with this recipe a little; if your gin is particularly sweet or sharp you may need a little more or less lychee syrup.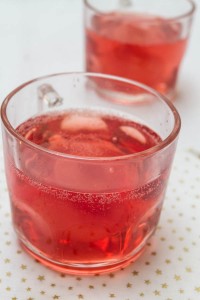 I think this would be lovely with normal gin too but the damson gin does give it a nice colour. It looks a little like you've put a ping pong ball in the glass but by the time you've drunk this wonderful drink you are left with an alcohol soaked, soft mouthful of fruit to get your teeth around. It tastes like a sophisticated, time consuming cocktail but it takes barely a minute to make. Perfect to knock up quickly and enjoy slowly; ideally with a mince pie and a log fire.