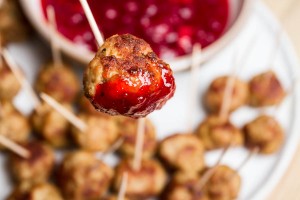 Although not my favourite meat you can't very well ignore a turkey at this time of year. I'm not going to be cooking a whole turkey (there's only two of us!) so instead, to make a nod to this festive bird, I made these spiced turkey meatballs. They are great with the chillied cranberry sauce. This recipe does have a whiff of a turkey curry about it but it's an ideal dish to make for party finger food.
Ingredients
You will need (for a good platter of nibbles):
500g turkey mince (not lean)
1 1/2 tbsp garam masala
200g cranberries
125g granulated sugar
250ml water
1 red chilli, finely chopped
Method
Mix the garam masala into the turkey mince until well distributed and well mixed together. Form into mini meatballs then cover and refrigerate until needed.
Put the water and sugar into a pan and heat slowly until the sugar dissolves. Add the cranberries and chilli and simmer, stirring occasionally, for 15-20 minutes or until thickened and the cranberries have burst.
Put the sauce to one side to cool. read more