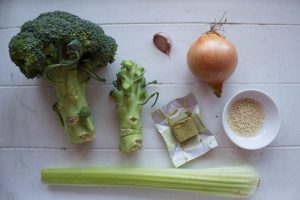 If you're chopping the florets off the broccoli and throwing away the stalk you're missing out. The stalk has that delicious broccoli flavour and can be used in so many ways. My broccoli stalk and sesame soup recipe is one of the things I like to use the stalks for but you can also chop them finely and add them to stir fries, pasta dishes and roasted veg.
Ingredients
You will need (for four portions):
Oil for frying
1 onion, roughly chopped
1 celery stick, roughly chopped
Broccoli, a mix of stalks and florets around 350g
1 garlic clove, roughly chopped
400ml hot vegetable stock
Salt and pepper
1 tbsp toasted sesame seeds
Sesame oil for drizzling
Method
Start by adding a little oil to a large saucepan over a medium heat.
Add the onion and celery to the pan and fry for five minutes until the vegetables are starting to soften. read more