There's a very good reason why this is an easy vegetable lasagne: there's no béchamel! One of the things I love most about lasagne is how comforting it is, all those layers of pasta and sauce, so I didn't want to miss any of that by cutting out a few steps. It's still creamy and cheesy but only uses one sauce. This is such an easy recipe and you can use whatever vegetables you have to hand.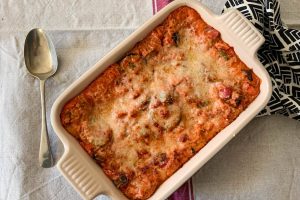 ingredients
You will need (for four portions):
1 onion, roughly chopped
1 aubergine, roughly chopped
2 peppers (whatever colour(s)) you like, seeds removed and roughly chopped
Handful cherry tomatoes, halved
Any other vegetables you like, such as courgette, carrot, etc. prepared and roughly chopped
2 garlic cloves, peeled and crushed but left whole
Olive oil for cooking
Salt and pepper
600ml passata
200ml crème fraîche
1 tbsp red pesto
25g Parmesan, grated
Method
Start by preheating an oven to 180C.
Put all of the prepared vegetables onto a baking tray and drizzle over enough oil to give everything a light covering. Add a little salt and pepper and give everything a good mix with your hands.
Roast the vegetables in the oven for 30 minutes, or until the vegetables are soft and starting to turn golden at the edges.
While the vegetables are roasting you can make the sauce.
Add the passata to a large saucepan and slowly bring to the boil. Add a little salt and pepper, reduce the heat and simmer the passata for 15 minutes to reduce it slightly.
Reduce the heat to low and stir through the crème fraîche and pesto.
Once the vegetables are cooked tip them, and any cooking juices, into the tomato sauce.
In a baking dish, alternate layering up the tomato and vegetable mix with the lasagne. The top layer needs to be tomato sauce.
Sprinkle the cheese over the top and then put the lasagne into the oven for 20-25 minutes, or until golden brown on top and the lasagne is cooked through.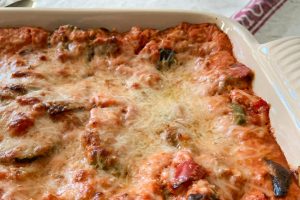 I really like how the top layer of my easy vegetable lasagne means you get some extra brown edges on some of the vegetables underneath the cheese top. I really liked the sweetness of the peppers and the substance from the aubergine. It takes much less time to make than a traditional lasagne but it's just as comforting.