If you're chopping the florets off the broccoli and throwing away the stalk you're missing out. The stalk has that delicious broccoli flavour and can be used in so many ways. My broccoli stalk and sesame soup recipe is one of the things I like to use the stalks for but you can also chop them finely and add them to stir fries, pasta dishes and roasted veg.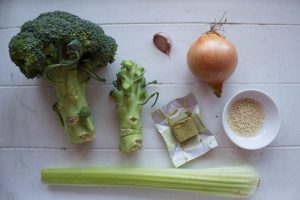 Ingredients
You will need (for four portions):
Oil for frying
1 onion, roughly chopped
1 celery stick, roughly chopped
Broccoli, a mix of stalks and florets around 350g
1 garlic clove, roughly chopped
400ml hot vegetable stock
Salt and pepper
1 tbsp toasted sesame seeds
Sesame oil for drizzling
Method
Start by adding a little oil to a large saucepan over a medium heat.
Add the onion and celery to the pan and fry for five minutes until the vegetables are starting to soften.
Tip the broccoli and garlic into the onions and continue frying for five minutes more. You want the broccoli and onion to start turning brown at the edges as it gives the soup a wonderful toasty flavour.
Pour in the hot stock, bring everything to the boil then reduce the heat and leave to simmer for 10 minutes.
Remove the soup from the heat, add a little salt and plenty of pepper and blend until smooth.
Serve the soup with the sesame seeds sprinkled on top with a drizzle of sesame oil.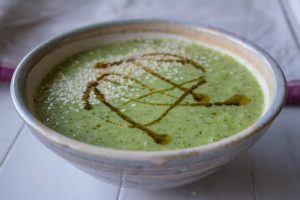 The thing I love most about this broccoli stalk soup is that it makes the most of something that might otherwise have been wasted. Cooking it up with a few other ingredients I almost always have in the kitchen makes a meal in minutes from barely anything. This soup freezes really well but don't freeze it with the sesame seeds and oil, add those once you've reheated it.