In my perfect world, a mince pie would be 70% pastry, 30% mincemeat. It's not that I don't like mincemeat I just don't like too much of it. That's where my mince pie crumble bars come in. A thick layer of buttery shortbread, a spiced mincemeat middle and further crumbly shortbread on the top. Let's be honest, it's mostly biscuit with a hint of Christmas. Perfect.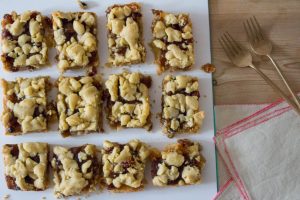 Ingredients
You will need (for 12 mince pie crumble bars):
300g softened butter
100g sugar
400g plain flour
1 small jar mincemeat
Method
Grease and line a baking tray or dish. The one I used was approximately 20cm x 30cm. Preheat an oven to 170C.
Cream together the butter and sugar until well mixed and the sugar isn't grainy anymore. Stir through the flour. Bring everything together to form a shortbread dough.
Put two thirds of the dough into the baking dish and spread it out to form an even layer. Prick the top all over with a fork and then bake for 20 minutes.
Remove the shortbread from the oven and dollop the mincemeat over the top. I found it easiest to put small spoonfuls of mincemeat over the whole shortbread and then spread it out gently.
Crumble the remaining shortbread over the mincemeat and return to the oven for a further 20 minutes.
The top should be golden brown, leave it in the oven for a few minutes more if needed. Remove from the oven when done and mark into portions while still hot. Leave to cool before removing.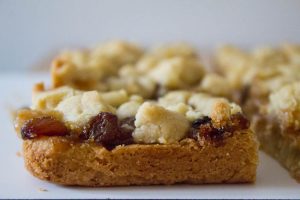 What really makes these for me are the crispy, slightly browner edges of the base shortbread and the paler, almost fluffy crumbled shortbread on top. I really do prefer these to a mince pie and actually I think my mince pie crumble bars are easier to make. A good quality mincemeat filling makes all the difference, you don't want one which is too wet; a homemade one would be even better.