You know those small pasta shapes you can buy which are ideal for minestrone? Well, it turns out they make a really good pasta bake. I found this out by accident when making my creamy lentil pasta bake and looked in the cupboard to find only teeny tiny bows to hand. This is a seriously tasty and very filling vegetarian pasta bake which is crammed full of veg with a little added double cream for a touch of weeknight luxury.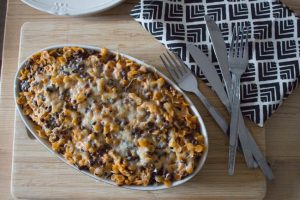 Ingredients
You will need (for two plus leftovers):
180g pasta
250g cooked puy lentils
Handful grated cheese, cheddar or Parmesan both work well
For the creamy tomato sauce
1 small onion, finely chopped
2 cloves garlic, crushed
1 pepper, finely chopped
Olive oil for cooking
600g tomato passata
1 tbsp sundried tomato paste
3 nuggets frozen chopped spinach (you could use fresh that has been wilted and chopped)
150ml double cream
Salt and pepper
Method
Start by making the sauce. Get a saucepan onto a medium heat and add the onion with a glug of olive oil. Fry gently for 10 minutes.
Add the garlic and pepper to the pan and continue frying for another five minutes.
Pour in the passata and add the sundried tomato paste. Stir everything together, bring to the boil and then reduce to a simmer and leave for 10-15 minutes or until the sauce has thickened.
Add the spinach and allow the sauce to come to a simmer again.
Preheat an oven to 180C.
Stir through the double cream with a little salt and pepper and bring everything to a simmer once more. Leave the sauce to one side for later.
Cook the pasta according to packet instructions then drain and stir through the creamy tomato sauce along with the lentils.
Tip everything into an ovenproof dish, sprinkle the cheese over the top then bake for 20 minutes or until the cheese has melted and is turning golden brown.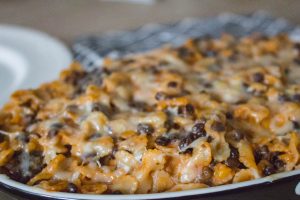 This is so full of vibrant vegetables it's the perfect pasta bake for this time of year. Any lentils at the top of the pasta bake turn slightly crispy as it bakes in the oven, the pasta remains soft and the creamy tomato sauce with sweet pepper and salty cheese is sublime. Using frozen chopped spinach makes this creamy lentil pasta bake a really easy meal to cook as I usually have all the ingredients I need for this in the cupboards. Filling, healthy and with enough leftover for tomorrow's lunch. Perfect.