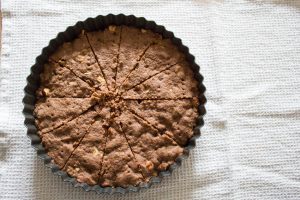 I often find that I buy nuts or seeds to make something particular and I get left with a few grams of them here and there. That's where my store cupboard shortbread comes in. This year I am attempting to use up ingredients in my cupboards and I thought I would start by using the last few dregs of cocoa powder and some leftover hazelnuts; I am so glad I did.
Ingredients
Makes 12 pieces of shortbread:
175g plain flour
1 tbsp cocoa powder
50g caster sugar
150g butter, softened
50g chopped nuts, chocolate or seeds
Method
Grease a loose bottomed tart tin, mine was 20cm. Preheat an oven to 160C.
Add all of the ingredients to a bowl or food mixer and beat together until you get a ball of dough. read more