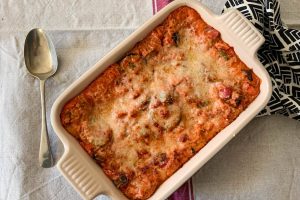 There's a very good reason why this is an easy vegetable lasagne: there's no béchamel! One of the things I love most about lasagne is how comforting it is, all those layers of pasta and sauce, so I didn't want to miss any of that by cutting out a few steps. It's still creamy and cheesy but only uses one sauce. This is such an easy recipe and you can use whatever vegetables you have to hand.
ingredients
You will need (for four portions):
1 onion, roughly chopped
1 aubergine, roughly chopped
2 peppers (whatever colour(s)) you like, seeds removed and roughly chopped
Handful cherry tomatoes, halved
Any other vegetables you like, such as courgette, carrot, etc. prepared and roughly chopped
2 garlic cloves, peeled and crushed but left whole
Olive oil for cooking
Salt and pepper
600ml passata
200ml crème fraîche
1 tbsp red pesto
25g Parmesan, grated
Method
Start by preheating an oven to 180C.
Put all of the prepared vegetables onto a baking tray and drizzle over enough oil to give everything a light covering. Add a little salt and pepper and give everything a good mix with your hands. read more