At Christmas there are four things that I like to do: eat, go for walks, play games and watch festive television shows. I do like to plan ahead and this year is no different with my Christmas meal plan. With a plan in place there's no last minute rush to the shops for those forgotten ingredients and no blank looks when someone says "What's for dinner?". With a little bit of careful planning, some batch cooking and a few shortcuts I am looking forward to a relaxed festive break.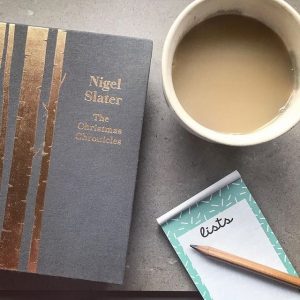 Starting your Christmas Meal Plan
Every year I see so many delicious seasonal recipes but it's usually too late to give them a try. So this year I sat down with my cookery books, Nigel Slater's Christmas Chronicles in particular, and jotted down some of the recipes I wanted to try. Whether you're planning on trying something new, cracking out some old favourites or are looking for inspiration, writing down what you'd like to cook is certainly the best place to start.
Once I had identified some 'must-trys' I had plenty of room left to add some of my favourite recipes and work out what to cook up with any leftovers. My Christmas meal plan doesn't include the 25th December as I won't be cooking Christmas lunch. Instead, I'm having a pre-Christmas gammon roast leaving us with plenty of leftovers right through to New Year.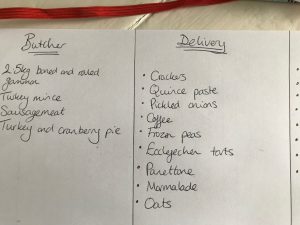 Once the meal plan has taken shape all the required ingredients also need to be listed. I divided my list into three: one order for the butcher, one order to be delivered Christmas week and the remaining ingredients to arrive by veg box, picked up from the local market or shops. Someone once called me irritatingly organised.
My Christmas Meal Plan
I'm starting the weekend before Christmas and going right through to New Year's Day. I am trying to avoid going to the shops after Christmas Day (I haven't the patience) but I think for milk and some essentials it's unavoidable.
21st – Turkey Meatball and Cranberry Baguettes. My recipe for spiced turkey meatballs and chilli cranberry sauce but served in a crusty baguette, probably with cheese. I'll be making extra meatballs and freezing them to use later on.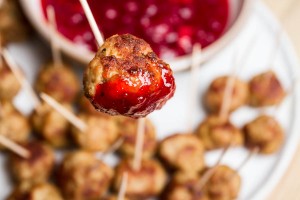 22nd – Roast Ham with Quince Paste, Cauliflower and Dill. This recipe is from Nigel Slater's Christmas Chronicles and as it uses a 2.5kg ham we will have plenty of leftovers.
23rd – Leftover Ham, Baked Brie and Bread. And probably a few dollops of chutney, maybe some roasted tomatoes.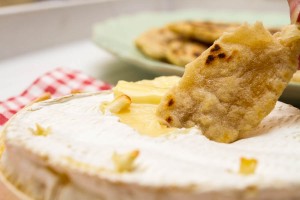 24th – Pea and Ham Soup. I'll be saving the stock that I cooked the ham in for making this soup and I'll make extra portions to freeze so we can have easy lunches.
25th – Not cooking!
26th – Cheeseboard, Crackers, Nibbles, Butcher's Cold Pie. Anticipating we'll still be full from the day before and what little space we have left will be taken up with chocolate this meal can be as big or small as required.
27th – Double Baked Jacket Potatoes with Cheesy Leeks and Veg. Any vegetables that are starting to look a bit past their best can be cooked up and served with this. I imagine there'll be plenty of cheese to choose from for the jackets too! Similar to this recipe for stuffed jackets but with fried leeks.
28th – Chicken and (leftover) Ham Pie with Roast Potatoes. If I'm peeling potatoes then I may as well do some extra ones! This should use up the last of the ham but if not then I'll have some in the New Year. The pie recipe I'll be using is the same as my Chicken and Vegetable Pie but with half chicken, half ham.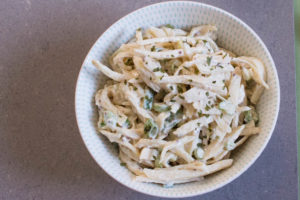 29th – Homemade Sausage Rolls, Leftover Roast Potatoes and Remoulade. I always make sausage rolls at Christmas and I use my Granny's recipe. I'll also be using up more of the veg in some sort of remoulade or coleslaw. The 'dressing' will be the same as my recipe for horseradish celeriac remoulade.
30th – Leftover Turkey Meatballs. I'll cook up the extra meatballs I made and depending on what we still have they might be with pasta or rice for a Stroganoff style meal or I might make a sort of Ploughman's.
31st – All the Leftovers. Anything else that's left will get eaten up, transformed or frozen today. I might make a round of my smoked cheddar and pickled onion turnovers to use up butter, pickles and cheese.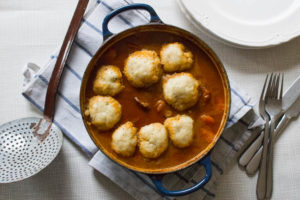 1st – Beef Stew and Dumplings. Start the year as you mean to go on I say. So I'll be starting it with some batch cooking to fill up the freezer. I may have some wine or beer hanging around that I can slosh in or a few lonely vegetables that could do with a new home. Either way, the beef stew will simmer away in the oven while I enjoy the first day of the New Year.
Spending time at home, going for cold walks and having warming food on the table is my idea of Christmas. Not fighting with someone over the last stem of sprouts. Having a meal plan in place means I will only buy what I need and I won't waste any of it. I may even end up with some bonus meals (extra ham or maybe an extra large pie) which will be fantastic come January.
Other Essentials
Other than the recipes I have planned there are a few other festive foods that I really like to have in the house. Clementines, Ecclefechan tarts and mince pies, panettone, good chutney, butter, bread, marmalade and oats are essentials for me. A little bit of merry sweetness after a meal, a slice of toasted panettone or porridge for breakfast, a few little things to keep in the cupboard.
Homemade food gifts are always a brilliant idea. You could try my homemade hot chocolate gifts, or this Terry's Chocolate Orange Fudge.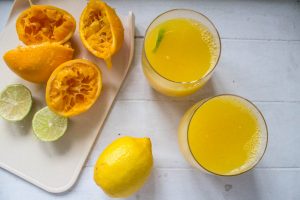 Vegetarian Alternatives
I have to admit that this year's Christmas meal plan is a little meat heavy. There are a few veggie days in there and I've got a few ideas for how to veg it up a bit more.
Use falafel or vegetarian Swedish meatballs instead of my turkey meatballs
Roast a smaller gammon or a nut roast and don't have any leftovers (the pea soup will be lovely with vegetable stock)
Instead of the chicken and ham pie make a leftover roasted veg and cheese tart; similar to my carrot and cheese tart
Make a vegetarian chestnut stuffing to serve up instead of the sausage rolls
Whatever you decide to do for your festivities, whether you're coming up with a plan or no plan at all, I wish you a very Merry Christmas!