I had such a craving for some proper oat and raisin cookies. Ones which are crispy on the outside and gooey in the middle and about the same size as my face. I've tried several recipes in the past and they've tended to be not quite what I'm after in my perfect cookie. Until now. If you're after a healthy cookie I wouldn't read on any further.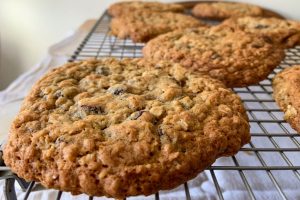 ingredients
You will need (for 10 cookies):
225g unsalted butter, softened
200g light brown sugar
50g caster sugar
2 eggs
2 tsp vanilla extract
190g plain flour
1 tbsp bicarbonate of soda
1 tsp ground cinnamon
240g rolled oats
140g raisins
Method
I made these in a food mixer but you can make them with an electric hand whisk, or by hand if you prefer.
Start by creaming the butter and sugars together in a mixer or large bowl until the sugar has fully disappeared into the butter.
Add the vanilla extract and the eggs, one at a time, and mix thoroughly after each addition.
Sift in the flour, bicarbonate of soda and cinnamon into the bowl and gently mix them into the wet ingredients.
Stir through the oats and raisins then put the cookie dough into the fridge and leave for half an hour.
Preheat the oven to 180C and line two baking trays with greaseproof paper.
Divide the dough into ten pieces and form into balls. Each cookie dough ball was between a golf ball and tennis ball size.
Put the dough balls onto the prepared baking trays leaving plenty of room between each one; they will spread as they bake.
Bake for 15 minutes or until brown at the edges but still gooey in the middle.
Remove from the oven and leave on the baking tray for a few minutes before removing and leaving to cool completely on a wire rack.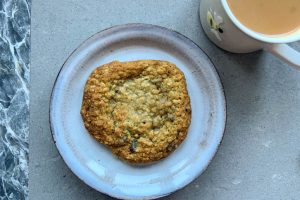 I love the combination of the cinnamon and vanilla in these oat and raisin cookies; the warmth of the spices gives the cookies an extra depth of flavour. The crisp golden edges and gooey, slightly chewy, centre are just what I want with my cup of tea. I made ten and they were gone two days after baking. Oh no. What a shame. I'll just have to make some more.