I love koftas in a curry. More often than not they are lamb based and I wanted to try and make a vegetarian version. My spinach and potato kofta curry came about because I wanted the main part of it to be roughly based on saag aloo. This is a bit more effort than some of my other recipes, but, I've made double batches of both the koftas and the sauce and frozen them so I can have it again with no effort at all!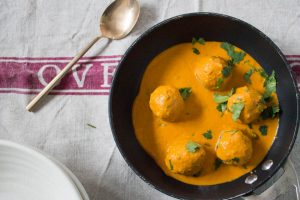 ingredients
You will need (for four portions):
For the koftas:
600g potatoes, peeled and diced
Oil for cooking (I use rapeseed)
1/2 tsp mustard seeds
2 tsp cumin seeds
Pinch turmeric
1 large onion, chopped
4 large garlic cloves, peeled and sliced
Thumb size piece ginger, peeled and finely chopped
1 chilli, finely chopped
5 nuggets frozen spinach (you can use fresh, wilt it and chop it before using)
2 tsp garam masala
Salt and pepper
Salt and pepper
For the sauce
2 large onions, sliced
4 large garlic cloves, peeled and sliced
Thumb size piece of ginger, finely chopped
1 tsp ground fenugreek
Oil for cooking (I use rapeseed)
1 chilli, finely chopped
1 tsp cumin seeds
1 tsp ground coriander
1 tsp turmeric
1 tsp garam masala
Salt and pepper
200ml water
75ml double cream (you can leave this out or use a plant based alternative to make it vegan)
Small handful fresh coriander, roughly chopped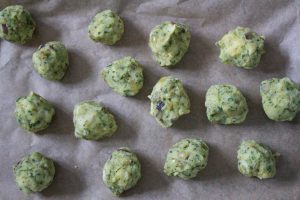 method
For the koftas
Put the potatoes in a saucepan and cover them with cold water. Bring the pan to a boil, then reduce the heat and simmer the potatoes for 8-10 minutes, or until they are cooked.
Drain the potatoes and leave them to one side.
Heat the oil in a large frying pan, on a medium heat, and add the cumin, mustard seeds and turmeric. Fry for a minute or so before adding the onions.
Fry the onions for at least 10 minutes, they should be turning golden at the edges and nicely softened.
Add the garlic, ginger and chilli to the pan and fry for another couple of minutes. Then stir in the spinach and garam masala. Continue cooking for a few more minutes to allow any excess moisture from the spinach to cook off then season the mixture and remove from the heat.
In a bowl add the spinach mix and the potatoes and mash everything together until smooth (ish). Check the seasoning.
Once cooled, form into balls around the size of a golf ball and place on a baking tray. Refrigerate until needed.
For the sauce
Add the onions, garlic, ginger and fenugreek to a frying pan with a good glug of oil (at least 4 tbsp) and get on a medium heat.
Fry everything together, stirring regularly, for at least 20 minutes. You want the onions to be golden brown.
Add the chilli and cumin seeds and cook for a few minutes more.
Add all the remaining ingredients, except the water, and simmer for 15-20 minutes. Stir occasionally.
Remove the sauce from the heat and blend until smooth. You may need to add a little of the water to be able to blend it.
Return the sauce to a low heat and add the remaining water and double cream. Heat until just simmering then stir in the coriander. Check the seasoning.
Leave to cool then refrigerate until needed.
To make the curry
Now, if you're organised enough you can time the koftas and sauce to be ready at the same time so you can serve everything up immediately. If, like me, you want to do the prep first and then cook it later here's how.
Preheat and oven to 180C and put the spinach and potato koftas in the oven. They'll need around 15 minutes to warm through.
While the koftas are warming bring the sauce to a gentle simmer.
Now is the time to get anything else cooking that you might like to go with it. I cooked up a small amount of rice to soak up the sauce and some chapattis would be delicious. I have a recipe for split pea dahl which would be perfect.
Carefully remove the koftas from the baking tray and put onto plates. The koftas are a little delicate. Pour over the sauce and finish with a little fresh coriander.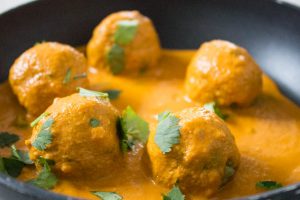 Along with my spices I almost always have the ingredients for making this spinach and potato kofta curry. I'd like to try adding some paneer to the koftas next time as I think it would work so well. Or maybe serving some crispy paneer and mushrooms on the side. The koftas are full of spice and flavour and sinking your fork into one you can see all the ingredients that went into them. The sauce is fresh, vibrant and just look at the colour of it! A fantastic vegetarian curry, if I do say so myself, I can't wait to get the other half out of the freezer.