There's something special about watching the steam rise from a hot bowl of soup after you've been working in the garden all morning; you just know it's going to fill you up. My smoked bacon and kale soup came about simply to use up some ingredients in the kitchen. I cooked up enough for six portions so there's plenty in the freezer for a wet and windy day. We have rather busy weekends and when lunchtime comes it's nice to stop, take some time and eat something nourishing.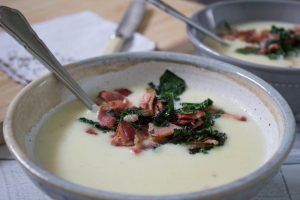 ingredients
You will need (for six portions):
1 large onion, roughly chopped
25g butter
500g potatoes, peeled and roughly chopped
700ml chicken or vegetable stock
100ml double cream
Salt and pepper
Large handful kale, roughly chopped
A few rashers of smoked streaky bacon, chopped
method
Add the butter and onion to a large saucepan and fry for a few minutes on a medium heat.
Stir the potatoes into the onions and ensure everything gets a nice coating of butter. Fry for a few minutes, stirring often to the potatoes don't stick.
Pour in the stock and pop a lid on the saucepan. Bring to a boil, then reduce the heat and simmer for 10-15 minutes or until the potato is cooked.
Once the potato is cooked add the double cream to the saucepan and bring everything to a simmer again.
Remove the pan from the heat and blend until smooth. Check the seasoning and add salt and pepper as needed. Keep the soup warm on a low heat until you need it.
While the soup is cooking dry fry the bacon in a small frying pan. When the bacon is just turning golden brown add the kale. Fry the bacon and kale together until the bacon is golden and the kale is crispy.
Serve the soup up in bowls and top with the crispy bacon and kale.
Note – for the portions I froze I stirred the bacon and kale through the soup before freezing it; they don't stay crispy after freezing and reheating but are delicious nonetheless.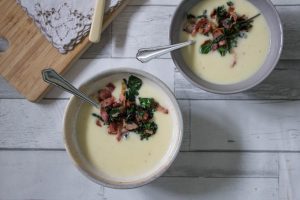 The basic potato, onion and cream soup is so velvety. It's worth keeping the blender going for a few more minutes to ensure it's completely smooth. I like the flecks of black pepper throughout the pale, creaminess of it. The smoked bacon and kale give the soup such a punch of flavour and texture. You could use any cabbage instead of the kale, or even broccoli or sprouts if that's what you have in your fridge. Warming, full of flavour and using up leftovers from the kitchen, what more could you need?
I love having a stock of different soups in the freezer to quickly warm up when needed. A big bowl of soup and a hunk of bread is the perfect lunch for me.