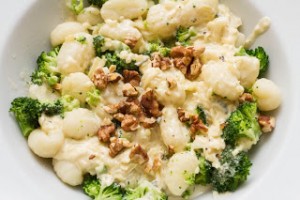 Apparently we are due for one of the coldest winters ever; don't they say that every year though? Either way it's the same story for me; thick socks, snuggly jumpers and consuming an astonishing amount of cheese. When you're having to defrost your car windscreen every morning the thought of coming home to a nice salad just doesn't quite cut it. What is needed is lots of stodge; carbohydrates, cream and cheese. Dauphinoise is a classic choice but it's not quite a meal. So to fulfil this instinctive desire for filling food, on a budget for four people, this gnocchi with broccoli, toasted walnuts and blue cheese sauce is perfect.
Ingredients
You will need (for four):
| | |
| --- | --- |
| 2 500g packs of gnocchi (not the refrigerated ones) | |
| 1 head broccoli, cut into small florets | |
| 1 small onion, finely chopped | |
| | |
| | |
| 150g creamy blue cheese (I used Blue Monday) | |
| 75g walnuts, roughly chopped | |
| | |
| | |
| | |
Method
Start by getting a frying pan on a low to medium heat and adding a glug of oil or knob of butter. Add the onion and fry slowly for around 20 minutes or until softened but not browned.
While the onion is frying get another small frying pan on a medium to high heat. Add the chopped walnuts and toast them in the dry pan for a few minutes until you can smell they are toasted. Watch them carefully though as they can burn easily. Put to one side when done.
When the onion is around five minutes from ready bring a large pan of salted water to the boil. Add the broccoli and boil for two to three minutes.
When the onion is soft, pour in the cream and stir frequently until it just starts to simmer. 
Add the gnocchi to the pan with the broccoli and continue to boil for one to two minutes more or until the gnocchi floats to the top.
Crumble the blue cheese into the cream sauce, reduce the heat to its lowest setting and stir frequently.
Drain the broccoli and gnocchi and put to one side.
Ensure the cheese has melted into the cream and then add plenty of black pepper. Taste the sauce and add a little salt if needed; it will depend how salty your cheese is. read more