I was first introduced to beetroot in its pickled form. This was many years ago and I still enjoy a well vinegared beetroot very much. The first time I tried fresh beetroot I didn't like it; it was too earthy and nowhere near as acidic enough as I was used to. However my feelings towards this most purple of roots have changed over time and now it's one of my favourite vegetables. I like to think of this beetroot gratin as a celebration of beetroot; an impressive purple plate of pleasure.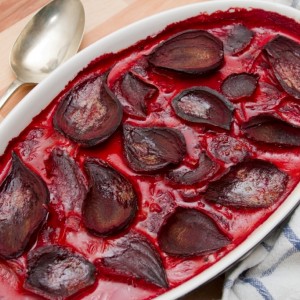 Ingredients
You will need (for two):

500g beetroot

Butter, for greasing

150ml double cream

150ml milk

1 clove garlic, finely chopped

1 head garlic

Extra virgin olive oil

1 Ciabatta

150g soft goat's cheese


Salt and pepper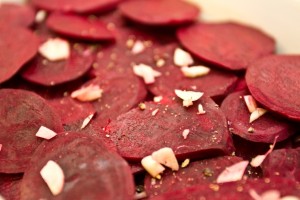 Method
Start by peeling and thinly slicing the beetroot. In my experience it's not a good idea to wear anything that you don't want turning pink. Preheat an oven to 180C.
Lightly grease an ovenproof dish and layer up the beetroot adding a little chopped garlic, salt and pepper between each layer. Finish with a layer of beetroot.
Mix together the cream and the milk, pour this over the beetroot then place in the oven for 45-50 minutes.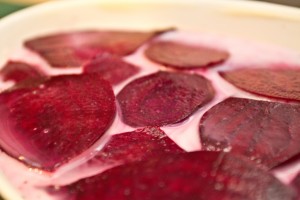 While the gratin is cooking take the head of garlic and slice off about the top fifth so that the inside cloves are exposed. Peel off any excess papery skin but leave enough to hold the head together. Place the head on some foil and drizzle over a little olive oil and some salt and pepper. Wrap the head up in the foil and roast for around 30 minutes in the oven. Check that the garlic is cooked by trying to squeeze the cloves out of their skins; they should pop out easily. Wait for the garlic to cool down a little before squeezing out all of the cloves and mashing with some more olive oil and salt and pepper to form a paste.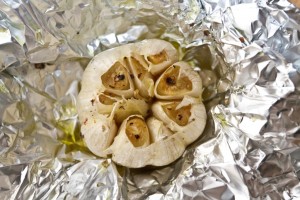 Slice the ciabatta and place in the oven to get lightly toasted for around five minutes. Remove from the oven, spread over some of the roast garlic paste and then crumble the goat's cheese over the top. Put this back in to the oven to allow the cheese to melt. Serve the giant crostini with the gratin.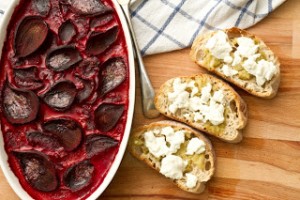 I like to use a mixture of cream and milk for this because you get the creamy taste and texture without it being too heavy. I didn't intend to have as much liquid left in the beetroot dish as I did but it was actually a good thing as you could dunk the crostini into the fuchsia juices. I love garlic in all its forms but roasted garlic has a little something special about it; its slightly honeyed flavour is wonderful with the salty goat's cheese, crusty bread and sweet beetroot. Effectively this was a meal made out of bits and bobs I had hanging around but what a pleasing combination it was.