There is a guilt associated with serving up a berry laden pudding. Someone is always going to end up with more fruit or more of one kind of fruit than everyone else. You could of course try making a coulis to atop your dessert of choice but sometimes it's not the most attractive option; or the most sensible, no one wants a soggy shortbread stack. To counteract any unfair fruit distribution I scatter a few fruits onto the pudding and then serve the rest up on the side so everyone gets their fair share. This berry and elderflower pavlova is the epitome of summer and a great way to use some elderflower syrup.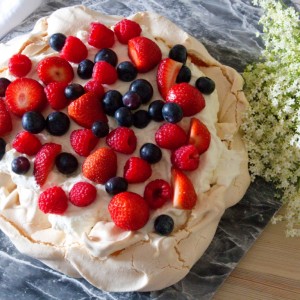 Ingredients
You will need (for one pavlova, to serve 6-8 people):
3 egg whites

180g caster sugar

150ml whipping cream

Berries of your choice, I used strawberries, raspberries and blueberries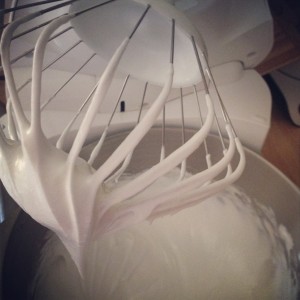 This was my first ever attempt at a pavlova; indeed my first attempt of any form of egg white whipping since the unfortunate incident about ten years ago. I shan't go in to details but the finished meringue was far from white and the baking tray ended up in the bin.
Anyway, it turns out that meringue is a doddle if you are just brave. Put the egg whites into a mixer or use an electric hand whisk; whisk them until soft peaks form. Then add the sugar a spoon at a time until shiny firm peaks appear. Honestly, it's that easy. I was most surprised.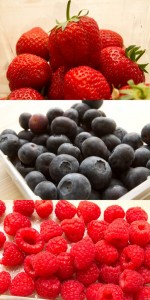 Spoon, smear or pipe the egg white onto some greaseproof paper and then bake at 140C for one hour. Turn the oven off and then leave the meringue in the oven for another half an hour before removing and leaving to cool.
While the meringue is cooling whip the cream with a tbsp of the elderflower syrup. I ended up putting about three tbsp of syrup in but it depends on the strength of your syrup. Whip it all together until you've got firm peaks. Spoon the cream onto the meringue and top with berries.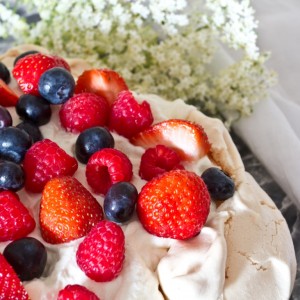 I thought my meringue was excellent if I do say so myself; it had crispness, softness and a bit of goo too. The elderflower cream was delicate and the berries not only looked cheerful but the flavours and textures were ideal against the sweet cream and meringue. I liked using the elderflower syrup this way as you get a generous flavour from a frugal measure. It's also an excuse to eat as many berries as possible.