It has been such a busy time recently. As you may note, not even a tiny snippet of bloggage crossed my keyboard in the whole of July. Not for lack of wanting to but for a lack of time! During the hectic haphazardry that ensued I did manage to whip up a few culinary delights. And so to begin… Strawberry Ice Cream.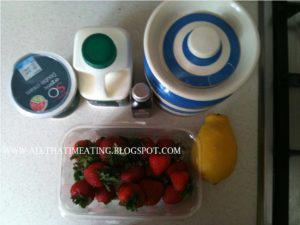 Ingredients
What you will need (for enough for 4-6 people):
600g strawberries, stemmed and sliced
4 tbsp fresh lemon juice
330g granulated sugar
330ml milk
600ml double cream
1 1/2 tsp vanilla extract
For me, the sugar recommended in all ice cream recipes is far too high for my palette. I am also aware that to make ice cream taste nice you need more sugar than you would need for the equivalent dish served at room temperature. This is because one can't taste as much sweetness as cold temperatures. I digress.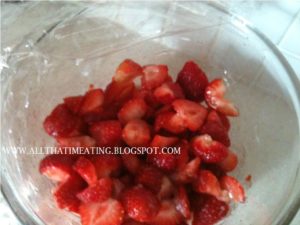 Method
Place the strawberries, lemon juice and one third of the sugar (for me 80g). Leave them for 2 hours and then strain them but save the juice. Mash up half the strawberries with a fork.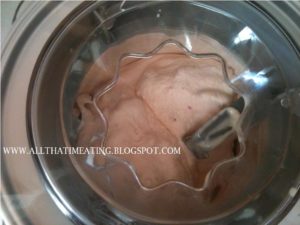 Put the milk, the rest of the sugar (for me, 160g) in a bowl and whisk until the sugar is dissolved. Stir in the cream, strawberry juices and vanilla extract. At this point, I put the mixture into my machine and set it on its way for about 20 minutes. I then threw the strawberries in and let it work its magic for another 5 minutes or so.

It was so creamy and strawberry-y. For an ice cream maker virgin, it was a great success!
All That I'm Eating