Once, a very long time ago, I ate a whole bowl of cherries. Not particularly interesting until you find out that not only did I eat the cherries but I ate every single one of the stones too. When you are five years old and take everything your father says as gospel you can imagine the panic, and intrigue, when you're told that a cherry tree will start to grow in your stomach. It is now some years later and I'm still waiting. Recently I was very lucky to get my hands on some English heritage cherries so I set about baking a heritage cherry tart.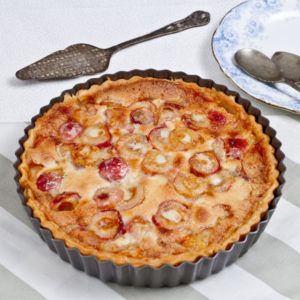 My cherry eating strategy has changed now. They are one of my favourite fruits but these days the stones end up in my garden; again, still waiting. My fascination with cherries hasn't diminished either; a flavour like no other, thin skins and awkward to cook with, when they are in season I can't get enough of them.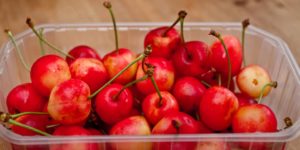 Ingredients
You will need (for one tart):
450g cherries

Sweet shortcrust pastry (100g cold butter, 200g plain flour, 30g caster sugar, 1 egg beaten)

Cream filling (150ml double cream, 2 egg yolks, 50g sugar)

1 egg, beaten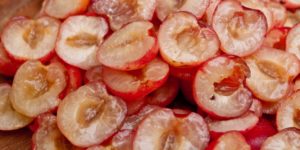 First of all make the pastry. Rub the butter into the flour until you have a breadcrumb texture. Add the sugar, lightly mix it in and then bring the pastry together with the egg. If you find the pastry is a little dry you can add drops of cold water until it comes together. Chill the pastry in the fridge for half an hour. If you find pastry intimidating, see my pastry guide for do's and don'ts.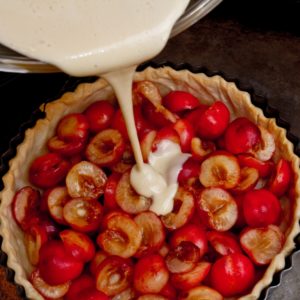 While the pastry is chilling, remove the stones from the cherries by running a knife around each cherry to halve it and then pop the stone out. This is made much easier if the cherries are nice and ripe. It's a bit of a fumble but better this than to crunch down on a cherry stone when eating the tart.
Remove the pastry from the fridge, grease a loose bottomed 9'' tart tin, put the tin onto a baking tray and line the tin with the pastry. Remove any excess pastry and prick the bottom of the pastry with fork. Line the pastry case with baking paper, fill with baking beans and bake in a preheated oven at 180C for 15 minutes. Remove the baking beans and baking paper, brush the pastry all over with the beaten egg and return to the oven for 5 minutes or until dry to the touch.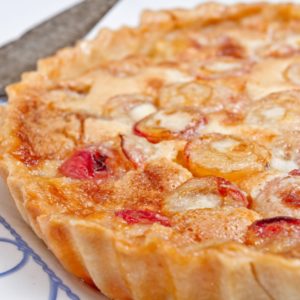 Whisk together all of the ingredients for the cream filling. Put the cherries into the tart case and cover with the cream mixture. Put back into the oven for 40-45 minutes or until set and golden brown. When you remove the tart from the oven allow 15-20 minutes before you try and remove it from the tin. It's not worth trying to remove it too early and it falling apart.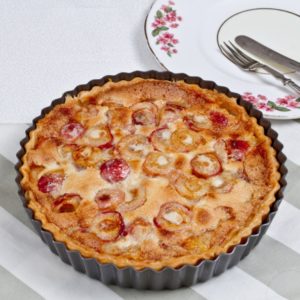 These heritage cherries are more subtle and delicate than their mainstream cousins. They flavoured the tart beautifully and were incredibly juicy. I'm not sure I've had a cherry with that much juice in before. It was a wonderfully quintessential dessert which would normally demand a cup of tea and plenty of time to savour the flavour. Not us though. This tart was devoured in its entirety in no more than twenty minutes.