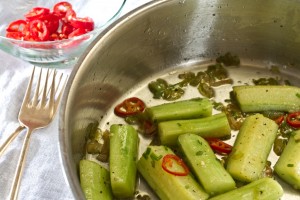 I don't like to be rude but sometimes a cucumber can be a pain in the backside. What do you DO with it? Yes it's very nice quartered and added to a salad; occasionally I go somewhat exotic and fork the edges of the cucumber before adding it, it's terribly exciting. I have wanted to try a chilled cucumber soup and also thin slices with a little salt, sugar and sherry vinegar but every so often I find myself simply wanting to use the cucumber for jousting. You may wonder why, if I have so many qualms with the cucumber, I keep on finding them in my fridge. When you get a vegetable box delivered it is inevitable that you will end up with things you always prepare the same way. Not anymore, my culinary cucumber monotony needed to be broken.
Ingredients
You will need (for two as a side):
1 cucumber

1 wet garlic stalk

2 red chillies

A few fresh chives

Salt and Pepper

Butter (or use olive oil to make it vegan)
Method
Peel the cucumber and then cut into sticks; I got 12 sticks from mine. Melt a big knob of butter in a pan on a medium heat and add the cucumber. While the cucumber softens slice the wet garlic thinly and then add this to the pan with the cucumber.
Keep stirring everything in the pan until the cucumber and garlic are starting to brown; the cucumber is surprisingly strong and doesn't break down.
While you're waiting slice the chillies and chop up the chives. For the final minute or so of cooking add a few of the chillies, the chives and some salt and pepper. Remove from the heat and serve with the remaining raw chillies. read more