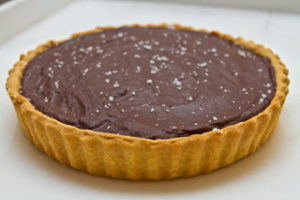 Baking is something I save for one of two occasions; a rainy day (classic excuse) or a day where my eyebrows have been almost continuously furrowed. With the return of the Great British Bake Off on our screens I felt it was high time I got out my scales and greaseproof paper to make something truly indulgent. Well if you're only going to bake occasionally then why make something healthy? Millionaire's Tart is possibly my favourite tart of all time. Also, I wanted to make sure that I could retain my pastry skills to ensure I avoided the dreaded soggy bottom.
Ingredients
You will need (for a 20cm tart):
For the pastry –
220g plain flour

120g butter (I used salted)

Cold water
For the chocolate topping –
200g high cocoa chocolate

150ml double cream

25g salted butter

Sea salt, I really like Cornish Sea Salt for this as I think it has a lovely clean flavour
I was so impressed with how my pastry case turned out I felt I needed to provide evidence that I had made it myself!
Method
Make the pastry by rubbing the butter into the flour until you have a breadcrumb texture then bring the mixture together into a dough using a little cold water.
Knead the dough lightly on a floured surface then roll out and line a 20cm tart tin.
Cut or roll off the excess and prick the base with a fork. read more