Baking is something I save for one of two occasions; a rainy day (classic excuse) or a day where my eyebrows have been almost continuously furrowed. With the return of the Great British Bake Off on our screens I felt it was high time I got out my scales and greaseproof paper to make something truly indulgent. Well if you're only going to bake occasionally then why make something healthy? Millionaire's Tart is possibly my favourite tart of all time. Also, I wanted to make sure that I could retain my pastry skills to ensure I avoided the dreaded soggy bottom.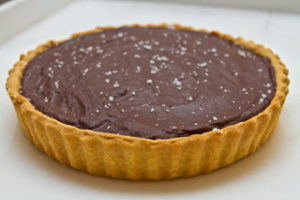 Ingredients
You will need (for a 20cm tart):
For the pastry –
220g plain flour

120g butter (I used salted)

Cold water
For the chocolate topping –
200g high cocoa chocolate

150ml double cream

25g salted butter

Sea salt, I really like Cornish Sea Salt for this as I think it has a lovely clean flavour
I was so impressed with how my pastry case turned out I felt I needed to provide evidence that I had made it myself!
Method
Make the pastry by rubbing the butter into the flour until you have a breadcrumb texture then bring the mixture together into a dough using a little cold water.
Knead the dough lightly on a floured surface then roll out and line a 20cm tart tin.
Cut or roll off the excess and prick the base with a fork.
Line the pastry with some greaseproof paper and fill with baking beans.
Place into a preheated oven at 200C onto a hot baking tray. Bake for around 15 minutes or until almost dry then remove the baking beans and put back into the oven for another 5 minutes or until the case is golden brown and dry.
Leave to cool.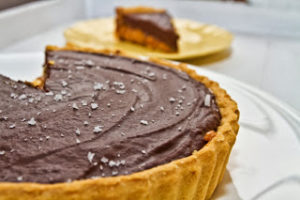 The next part of this millionaire's tart is so satisfying to do; simply empty the entire can of dulce de leche onto the pastry case. Smooth it out with a knife then place in the fridge to cool.
While the pastry is in the fridge, make the chocolate ganache topping. Grate the chocolate into a bowl (I find it goes electrostatic and ends up everywhere so do mind out) and put to one side.
Heat the cream and butter together in a saucepan, stirring often, until just simmering then pour over the grated chocolate and stir it together until the chocolate has melted and it's well combined.
Spoon the chocolate over the dulce de leche and then leave to cool.
Top the tart with some salt flakes.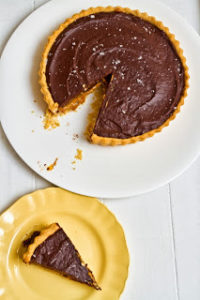 The combination of pastry, caramel and chocolate is a hard one to beat in my eyes and with a little added salt to set off your savoury taste buds this tart has a bit of everything. I have taken the caramel, chocolate and biscuit combination to a whole new level with my Zillionaire's Shortbread if you fancy it. It's pretty rich as you only need a small slice but with the cooler weather coming our way and the copious amount of gardening I am doing I feel I earnt a nice big slab with a cup of tea. At least, that was my excuse for the first slice. I have to warn you that this tart doesn't travel well; I took some to work and ended up licking the majority off of the cling film. Not a good look. You'll also be pleased to know that there wasn't even a hint of a soggy bottom. Phew.