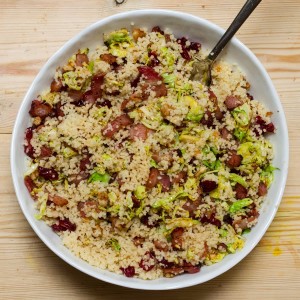 Around every corner there seems to be some sort of turkey and cranberry and/or stuffing sandwich. All those crazy festive sandwich fillings come out now for us to enjoy in an intense but short space of time; some more questionable than others. It seems you can put almost anything in a sandwich; I'm waiting for one to come out with a Brussels sprout and mincemeat filling. It is nice to be able to take in all the flavours of Christmas in one mouthful but what about when you just don't want any more bread? Have no fear because you can have all the tastes of a festive lunch in my Christmas Couscous.
Ingredients
You will need (as a light lunch for 4):
150g couscous
250ml chicken (or turkey) stock
50g walnuts, chopped and lightly toasted
4-5 rashers smoked, streaky bacon
10 sprouts, shredded
50g dried cranberries
Salt and pepper
Oil for frying
Method
Put the couscous into a large bowl. Bring the stock to a boil and pour over the couscous. Cover and put to one side for five minutes.
Add a little oil to a frying pan on a medium heat and add the bacon. Fry until golden brown.
While the bacon cooks add the walnuts and dried cranberries to the couscous with some salt and pepper and give it all a good mix together to fluff up the couscous. read more