The beetroot is a vegetable of many guises. I have been fortunate enough to obtain, consume and even grow some of the purple, the pink and white striped and the golden. There's nothing quite like a beetroot; so earthy and yet so sweet. Growing beetroot has been, in my experience, immeasurably easy. I think it helped that I slightly cheated and bought plug plants rather than seeds but irrespective of this they were all a success. If you were to grow just one thing, broad beans or beetroot would be my recommendation to you. It's only January so there's plenty of time to get some dirt under those fingernails.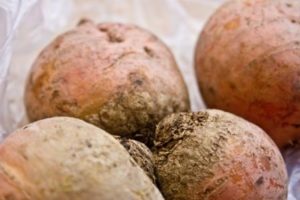 Beetroot soup has always had a whiff of borscht about it and I'm not one for cold soup. Not even the most delicate of gazpacho can tempt me to more than a few spoonfuls. I wanted a warming, hearty soup but I did not want to redecorate the kitchen in varying shades of fuchsia while trying to achieve this. Purple beetroot is a glorious colour but there's always varying degrees of risk when cooking with it. Every person, pet and piece of kitchen equipment is playing beetroot roulette. 
There's not much point in wasting the striped beetroot in a soup either. Rumour has it that instead of being the baby pink you envisaged it goes more of an off-grey. The only other off-grey thing I can think of is gruel. Nobody wants to eat gruel. By happy chance there is another shade of beetroot that can save all this heartache. A beetroot that results in soup that looks like a bowl of sunshine. Not only does the golden beetroot look happy, it makes you happy because there's much less messing around.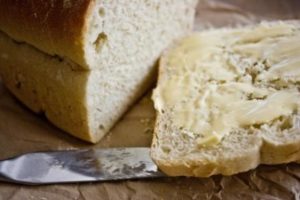 If you are brave, dressed head to toe in beetroot proof gear and preferably cooking outside, you can of course attempt this with the purple beetroot. If you do, I would recommend roasting the beetroot first, peeling it and then adding it to the soup as detailed below. This way you will only have carmine fingers to worry about.
You will need (for two big bowls):
4-5 golden beetroot, peeled and roughly diced
1 onion, sliced
1 carrot, sliced
1 stick celery, sliced
Oil for frying
1 bay leaf
600ml vegetable stock
Crème fraîche to serve (if liked)
Fry the onion, a carrot and a stick of celery in a little oil until softened and add the beetroot.
Fry for a few more minutes before adding the bay leaf and the vegetable stock.
Leave to simmer until the beetroot is soft, time will depend on the size of your chunks.
Blend the soup to the consistency you like it and serve with a dollop of 
crème fraîche.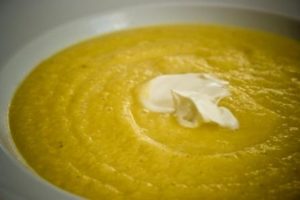 Good bread is non-negotiable. Proper butter is absolutely essential. Depending on the intensity of your soup, sunglasses may be advisable. This soup would cheer up even the most downhearted of individuals. It is an odd one though; you taste beetroot and you therefore expect it to be purple. The wondrous yellow seems like a surprise with every spoonful. It is sweet, robust and homely. With a bowlful of this dull, grey January days could be a million miles away.