I like to think I'm fairly well behaved. The majority of what I eat I make myself and is somewhat healthy and well balanced. I find a place for the indulgent dishes (macaroni cheese, dauphinoise and the like) amongst the day to day soups, salads, vegetables and wholegrains. I'm by no means a saint and I think a little indulgence never hurt anyone. When I plan to make something that's maybe a little bit 'naughty' I make sure I go all out. These Chocolate Fudge Cheesecake Brownies are no exception; prepare to enjoy.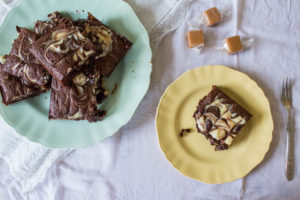 Ingredients
You will need (for 9 brownies):
200g full fat soft cheese
1/2 tsp vanilla extract
200g caster sugar
2 eggs
100g butter
50g light muscovado sugar
100g dark chocolate, broken into pieces
1 1/2 tbsp golden syrup
100g self raising flour
2 tbsp cocoa powder
50g fudge, chopped into small pieces
Method
Grease an eight inch shallow, square cake tin. Preheat your oven to 180C.
Gently beat the cream cheese with the vanilla extract and two tbsp of the caster sugar. Mix until smooth.
Put the butter, remaining sugars, dark chocolate and golden syrup into a small saucepan and heat gently until everything is combined and smooth. Remove from the heat and leave to cool.
Beat the eggs in a large bowl then whisk in the cooled chocolate mixture along with the fudge pieces.
Sift the flour and cocoa powder into the chocolate and egg mix then fold everything together.
Pour the brownie mix into the prepared tin then dollop the cream cheese mixture over the top. Use a spoon or skewer to marble the cream cheese through the brownie mix.
Bake in the oven for 30 minutes or until it's just coming away from the edge of the tin but is still slightly gooey.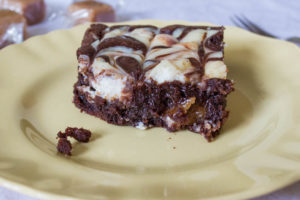 These chocolate fudge cheesecake brownies make you pull the face that only a full fat, full sugar, no compromise baked good can; somewhere between falling asleep, pure satisfaction and absolute delight. The fudge pieces are slightly caramelised and chewy when the brownies are warm, the cheesecake part adds a slight tang and freshness and it's all surrounded by gooey, spongey chocolate. You need to use a few different bowls for making these so there's a little more washing up than some of my usual recipes but trust me, it's worth it. Just think how many extra calories you'll burn doing the washing up, just in time for when these are ready to come out of the oven.