I'm not sure these Peanut Butter and Raspberry Brownies need an introduction; just the name gets my mouth watering and a hankering for a piece with a coffee shortly follows. I'll be honest from the outset, these are not exactly what you'd call healthy. They are full fat, properly indulgent, to-hell-with-it brownies. And frankly, when you've been working hard all day coming home to one of these and a cuppa is like a hug for the soul. A gooey, chocolatey, nutty…stop it…slice of comfort.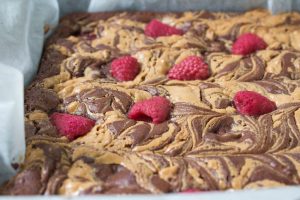 Ingredients
You will need:
100g salted butter
170g golden caster sugar
50g light muscovado sugar
100g dark chocolate, broken into pieces
1 1/2 tbsp golden syrup
2 eggs
100g self raising flour
2 tbsp cocoa powder
150g crunchy peanut butter
100g fresh raspberries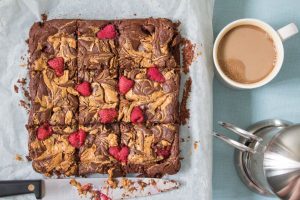 Method
Grease and line a 9 inch square cake tin. Preheat an oven to 180C.
Add the butter, sugars, chocolate and golden syrup to a saucepan and melt over a low heat. Stir occasionally until everything is melted and well combined. Remove from the heat and leave to cool a little.
Beat the eggs in a bowl then add the melted chocolate mixture.
Sift the flour and cocoa powder into the bowl and then fold through the mixture. Stir through half the raspberries.
Tip the brownie mix into the tin. Dollop the peanut butter over the top then swirl this through the brownie with a skewer. Top with the remaining raspberries.
Bake for 30 minutes.
Remove from the oven and leave to cool slightly before removing and cooling on a wire rack. Mark into portions when cold.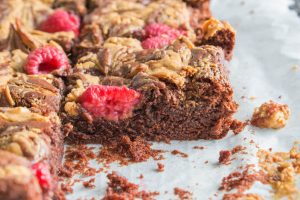 The raspberries on the top have a completely different texture to the brownies inside the mix; a lovely acidic, fresh contrast to everything that's going on around it. Chocolate brownie wise you're looking at a cakey on the outside, gooey in the middle kind of situation; full of the richness from the dark chocolate and cocoa and just sweet enough. Using crunchy peanut butter means they have a wonderful additional crunch and texture. As autumn creeps up on us these will give you as much warmth as any blanket. If you're loving the look of these brownies, perhaps you might be interested to try my Chocolate Fudge Cheesecake Brownies (yes, you read that correctly) or my White Chocolate and Blackcurrant Blondies.
If you find yourself in the awkward situation that I did where there was one peanut butter and raspberry brownie left and two people wanting to eat it I have an excellent plan for such an occurrence. Take two bowls and scoop some vanilla ice cream into each one, warm the brownie up slightly, then divide warm brownie between bowls. Thank me later.