Minimum fuss and maximum results were the name of the game with my most recent dessert. Another hot day, the last thing I needed was to be baking pastry, so I didn't, but made a tart nonetheless. My Strawberry and Peanut Tart makes use of a few sneaky kitchen shortcuts to make a delicious and impressive pudding. A chocolate and peanut base smothered with cream and stacked high with fresh fruit it almost seemed a shame to cut into it. But, you know, someone had to.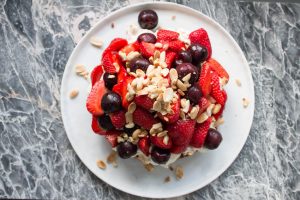 Ingredients
You will need (for 6-8 servings):
180g dark chocolate digestives
2 heaped tbsp peanut butter
3 tbsp salted butter
300ml double cream
150ml low fat Greek yoghurt
Strawberries and cherries (or other berries)
2 tbsp peanuts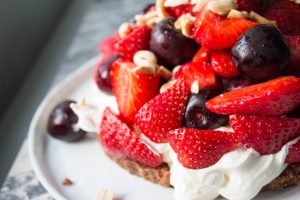 Method
Start by heating the peanut butter and butter together in a small pan on a low heat. Stir from time to time until melted and mixed together.
Add the digestive biscuits to a bowl and then smash them up with the end of a rolling pin until you have a breadcrumb texture. Pour over the melted peanut butter and butter and mix together well.
Line a 20cm spring form cake tin then tip the biscuit mix into the tin, spread out over the base and flatten the top using the back of a spoon.
Refrigerate for an hour minimum, longer if you have it.
Prepare the fruit; chop the green bits off the strawberries, stone the cherries if you like, and put to one side.
Add the peanuts to a small, dry frying pan and heat on medium to toast the peanuts. Remove from the heat when lightly golden and smelling marvellous then crush in a pestle and mortar or in a bag with a rolling pin.
Whip the double cream until you have firm peaks. Gently fold the yoghurt through the cream.
Remove the base from the fridge and put onto a large plate. Pile the cream on top of the base and then top with the fruit. Sprinkle over the crushed peanuts.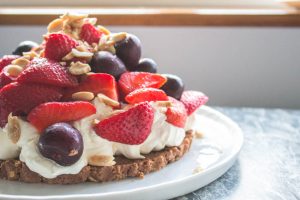 This was one of those desserts that was so satisfying to cut through with a knife. Firstly you have to move it through the heavy fruit into the fluffy cream, then you meet a little resistance at the base with a very satisfying chink when knife meets plate. The dark chocolate in the digestives gives a hint of chocolate throughout the tart without being too overwhelming and the peanut taste in the base mirrored by the peanuts over the top brings a great taste and texture. Adding the yoghurt to the cream not only makes the cream go further without adding any extra fat but also gives a nice tang and freshness to the whole dessert. Juicy strawberries and cherries made a fantastic topping for this but any berries would work well too.