I tried making a traditional Yule Log a few years ago. It was somewhat stressful. Apart from the fact that my butter is never warm enough and I always lose patience and mix it up anyway and deal with the consequential sponge that turns up the whole process is fraught with danger. The rolling up, unrolling, spreading of cream, re-rolling and hoping for no cracking then furiously patching it up with ganache, chocolate flying all over the place. It's all a bit much for me; I'd rather be sipping a G&T and relaxing rather than cleaning ganache off of the kitchen tiles. That's how my Marshmallow Rice Krispie Yule Log came about. It's easy to make and you can fashion it into any shape that you like; the more dexterous amongst you may wish to attempt an actual reindeer.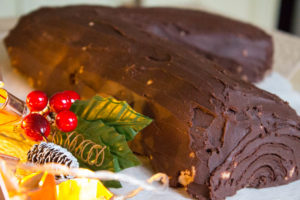 Ingredients
You will need (to serve 6-8 people with a nice thick slice):
For the icing
250g dark chocolate, broken into small pieces
250ml double cream
For the filling
50g butter
300g marshmallows
125g rice krispies (you can get some gluten free ones to use if liked)
40g honeycomb pieces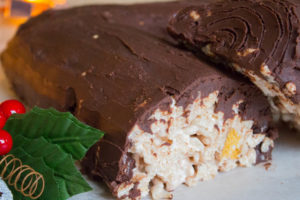 Method
Start by making the ganache for the icing. Heat the cream until just hot then stir in the chocolate. Keep stirring until the chocolate has completely melted and you have a smooth mixture. Leave to cool and then refrigerate the ganache.
In a large pan melt the butter and marshmallows together over a low heat, stirring all the time. Keep stirring until there are no lumps of marshmallow then remove from the heat and stir through the rice krispies and honeycomb.
Leave to cool a little before turning out the mixture onto some greaseproof paper.
Once on the greaseproof paper oil your hands lightly and form the mix into a log shape. Or other festive shape of your choice.
Remove the ganache from the fridge. You have two choices here; either you can pipe the ganache onto the log or you can spread it on with a palette knife. I opted for the former but my star nozzle wasn't big enough so I ended up smoothing it all over with a palette knife anyway!
Decorate as you see fit with swirls and patterns and all sorts then refrigerate until you serve it.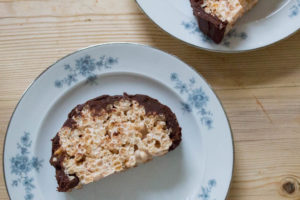 I think it definitely needs a dark chocolate ganache rather than milk chocolate; it would be a bit too sweet otherwise. The honeycomb adds a lovely bit of crunch and caramel flavour; as there aren't many pieces I think it harks back to hiding the pennies in Christmas puddings. Who knows who the lucky recipient will be! The rice krispie mix is so malleable that if you're not happy with your shape you can poke and prod it around until you're completely satisfied. If you wanted to adult-ify it a bit then adding a little booze to the ganache or some of those kirsch soaked cherries (well drained) to the marshmallow mix would certainly be worth a try. This marshmallow yule log is my hassle-free festive centrepiece; I challenge you to stop at just one slice.