Part biscuit and part flapjack, these Chocolate Rolled Oat Biscuits are a doddle to make. All mixed in one bowl and baked in one dish; minimum fuss and washing up, maximum baking satisfaction. I like that these biscuits aren't too sweet and the generous amount of oats used means they are really filling. I'm not sure if they are technically a flapjack or a biscuit though; the lack of honey or golden syrup isn't very flapjack-y but then the oaty flavour is so familiar it's hard to believe it's not a flapjack! I am sticking with calling them a biscuit on account of the crunch.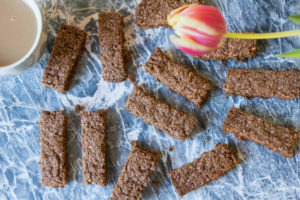 Ingredients
You will need (for 14-16 biscuits):
300g rolled oats
200g margarine (you could use butter if you prefer, I happened to have margarine in the fridge)
150g caster sugar
2 tbsp cocoa powder, sieved
Method
Beat the sugar and margarine together well so the mixture becomes smooth.
Add the oats and cocoa powder to the margarine and ensure everything is well mixed together.
Preheat an oven to 150C. Grease a baking tin, ideally one that's 20 x 25cm.
Press the mixture into the greased tin, making the top as even as possible, then bake for 30-40 minutes.
Remove from the oven and mark into portions while still hot.
Leave to cool before removing from the tin.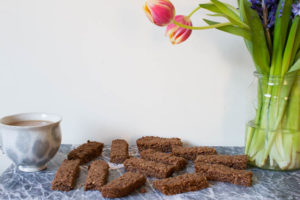 If you eat them while they are still a little warm they do have a little bit of flapjack gooeyness; wait until they have cooled and they are a fantastically crunchy biscuit. I would add some dark chocolate chips or maybe some crushed hazelnuts or raisins next time to add something a little extra. I think they'd also be delicious dipped into some melted chocolate, it would finish them off perfectly. Just the thing with a hot cup of coffee and a good book.