I do love the expression 'fart-arsing around'. When it came to making and decorating these dark chocolate orange and pistachio biscuits I wasn't going to be fart-arsing around with any of it. An all in one biscuit dough means it's easy to mix and haphazard throwing around of melted chocolate makes the decoration a breeze. No dunking of biscuits in chocolate for the perfect edge, no placing of individual caramelised pistachios with tweezers and you know what? I think they taste all the better for it.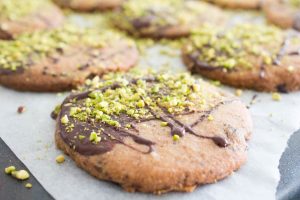 Ingredients
To make around 16 biscuits:
For the biscuits:
225g butter, softened
50g dark chocolate with orange, grated
275g plain flour
75g light muscovado sugar
To decorate:
50g dark chocolate with orange
Small handful shelled pistachios
Method
Throw all the ingredients for the biscuits into a mixer and beat until you have a smooth dough. You can do this by hand if you don't have a mixer. Whichever way you do it you need to make sure the butter is very soft.
Preheat an oven to 200C. Lightly grease two baking trays.
Flour your worktop and a rolling pin then tip the dough onto the floured surface and roll it out until it's about half a centimetre thick.
Using a seven inch biscuit cutter cut out as many biscuits as you can and place onto the prepared trays. Gather up and re-roll the dough to cut again and repeat until all the dough is used up.
Bake in the oven for 10-12 minutes or until lightly golden.
Leave to cool slightly before transferring to a wire rack.
Melt the chocolate; either in a bowl over simmering water (being careful not to let the bowl touch the water) or microwave, whichever is your preference.
Blend the pistachios in a food processor or finely chop them.
Spread, dunk, drizzle and brush the chocolate over the biscuits whichever way you wish and then while the chocolate is still melted sprinkle over the pistachio nuts so they stick.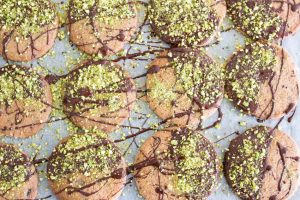 I really like how the biscuits have a speckled effect through them thanks to the grated chocolate. It also means that if you get a bit impatient with the grating, not naming any names *ahem*, then the larger chocolate chunks are a lovely little treat. The orange is really subtle in these but I like that as it lends a delicate rather than overpowering flavour, you could add a little grated orange zest if you wanted to. Green pistachios are always nice to look at; they stand out really nicely against the dark chocolate background and give a fantastic extra texture. These dark chocolate orange and pistachio biscuits are so simple to make and, I can only speak for three days so far, keep very well in an airtight container.