After double, these cookies could only be improved by making them triple; perhaps a drizzle or dunk of white chocolate on each. As they stand however, my Double Chocolate and Orange Cookies are just splendid as they are. Especially straight from the oven. The smell as they bake is hard to beat. I like to use dark chocolate when making cookies as sweet as these because I think it adds some welcome bitterness. When it comes to rolling the cookies, for reasons I am not sure of, I always seem to manage to end up with thirteen; a perfect baker's dozen.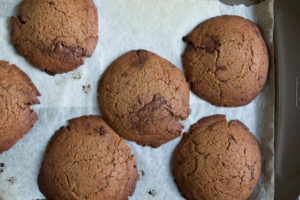 Ingredients
You will need (for thirteen, or fourteen if you prefer, cookies):
100g margarine
150g butter
250g light muscovado sugar
2 eggs
325g plain flour
2 tbsp cocoa powder
1/2 tsp baking powder
Pinch salt
100g dark chocolate with orange, broken into small pieces
Zest 1 large orange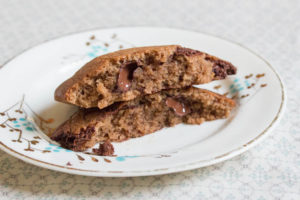 Method
In a mixer (or by hand if you're feeling strong) cream the margarine and butter together then add the sugar and continue to mix together until light and creamy. Don't rush this step, it's important that the butter and sugar get properly fluffy.
Whisk the eggs together in a small bowl then add these to the butter mix (with the mixer going) a little at the time until combined.
Sift the flour, cocoa powder and baking powder together then gently mix this into the dough with the salt.
Mix the chocolate and orange zest into the dough then refrigerate for around 30 minutes.
Preheat an oven to 220C. Line two baking trays with baking paper.
Divide the dough into fourteen (roughly) pieces then roll each one into a ball; they should be about the same size as a golf ball.
Place each cookie onto the lined baking trays leaving room for them to spread. Bake for 12-15 minutes.
Leave to cool slightly before removing from the tray.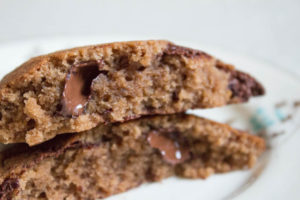 I actually quite like that the cookies end up touching at the edges when they spread out on the tray; they break apart very easily once baked. These cookies are, of course, at their very best when fresh from the oven so they are still gooey and the chocolate is all melted. Chocolate and orange are always excellent together and served alongside a hot cup of coffee there's not much else you could need on a Saturday afternoon.