What's that? More aubergines? Yes actually, and I make no apologies because this Aubergine and Ricotta Gnocchi Bake is so good that I think we can all forgive if I've been a little heavy on the aubergine recipes of late. The key to this dish comes down to two things. Firstly, the aubergine has to be fried beautifully to make sure it's soft, silky and golden brown. Secondly, adding a handful of cherry tomatoes really transforms the tomato base as it adds a wonderful freshness and sweetness. This is such a delicious vegetarian dish and one that feels at home as much now, in the summer, as it would in the autumn.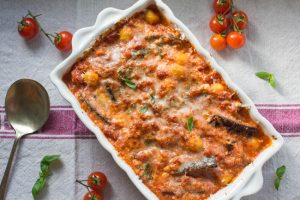 Ingredients
You will need (for two):
2 medium aubergines, cut into length slices, then halved and chopped into finger sized pieces
1 small onion, finely chopped
Olive oil for cooking
2 cloves garlic, crushed
1 tin chopped tomatoes
Handful really ripe cherry tomatoes, halved
200g ricotta cheese
Pinch sugar
Few sprigs fresh basil and oregano, roughly chopped
Salt and pepper
Parmesan cheese
Method
Get a large frying pan on a medium heat and add a little oil, you need enough to just cover the bottom of the pan. Add the aubergine and fry until golden brown and soft. You may need to do this in batches depending on how much aubergine you have and how big your pan is. Once the aubergine is done place it on some kitchen paper to remove any excess oil.
Add a little more oil to the pan and add the onion. Fry for around 10 minutes before adding the garlic. Continue to fry for a few more minutes then tip in the chopped and cherry tomatoes.
Bring the tomato mixture to a simmer and continue to simmer until it's reduced by around a third then add the sugar, salt and pepper, basil and oregano.
Bring a pan of salted water to the boil and cook the gnocchi according to pack instructions; but drain them around 30 seconds before the pack says to. The gnocchi will continue to cook in the oven.
Remove the tomato sauce from the heat and stir in the ricotta and aubergine.
Drain the gnocchi and add to the tomato and aubergine mix, stir everything together well and then put into an oven proof dish. Grate over a little Parmesan.
Bake in a preheated oven at 200C for around 20 minutes or until the top is golden and bubbling.
You could definitely try using any shape of pasta rather than gnocchi if you wanted to.  I know you shouldn't really cook with basil but I actually like the way the leaves wilt and give their subtle flavour over to the sauce once they are cooked. It's great to dive into this dish and get a forkful of everything: sticky gnocchi, soft aubergine, creamy ricotta, a chunk of tomato, a bit of basil and a bit of punch from the Parmesan. I don't think a few slices of fried courgette would go amiss either.