Every time I have attempted to make a curry I have always been disappointed. I had almost given up when I got a craving for aubergines and a desire for spice. This turned out to be a subtle and fragrant aubergine curry rather than a powerful and punchy dish.
At the market there is a kind man who sells all the spices you could ever need. I purchased what I knew; coriander, cardamom, cumin, mustard and turmeric. I have since been back and purchased an awful lot more. I'm a bit of an onion fiend. If I had my way and the smell was tolerable for everyone else I'd happily munch through one like an apple. However as this might be considered unusual I try to cram as many onions into my food as possible.
Some recipes call for a can of tomatoes but I wanted more texture and decided to use both fresh and tinned. Sometimes tomato seeds can add a nice bit of acidity to a meal but some meals are better without them. I used to read recipes that said to remove the seeds from the tomatoes and it filled me with dread. I persevered and having now mastered tomato seed removal I have to say it can be done in no time at all. Don't get all caught up in appearance is my advice and forget any equipment, your hands are the best tools for the job.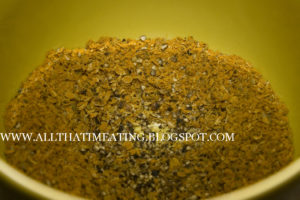 Ingredients
You will need (for five to six large portions):
1/2 a teaspoon each of cardamom, mustard seeds, cumin and turmeric

1 teaspoon of coriander seeds 

salt and pepper 

2 large aubergines, in roughly chopped
4 onions, sliced
4 large garlic cloves
Oil for frying
4 tomatoes, seeds removed and quartered
1 tin tomatoes
2 chillies, sliced (add more or less depending on how hot you like it)
1 tin coconut milk
300ml vegetable stock
Large handful coriander, roughly chopped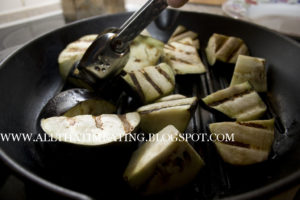 Method
Add all the spices and salt and pepper to a pestle and mortar and grind them up. The smell is so fresh.
I have a real aversion to soggy, slimy, sloppy aubergines and so to prevent my distress I always cook them separately first. In this case I griddled them to give them a characteristic smoky flavour. Don't add oil to the aubergine, I find the oil soaks in too much. I have found that for some recipes soaking the aubergines in salt is absolutely necessary but in this recipe, not so much.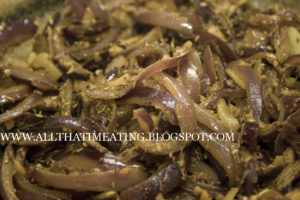 Sweat the onion and garlic in a little oil until they look fairly sumptuous and then add the spices. Stir until your nostrils are dancing.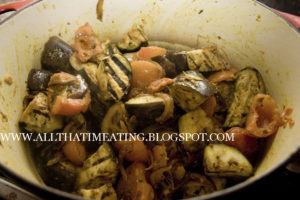 Add the fresh tomatoes along with a can of tomatoes, the pre-griddled aubergines and as many chillies as you deem acceptable.
Add the coconut milk and stock then leave to simmer for 45 minutes.
Just before serving stir through the coriander; you could try using spinach too.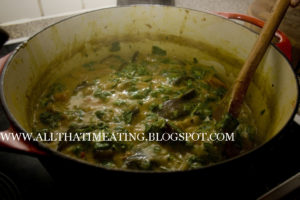 I served this with rice and naan bread. It happily fed five and could easily feed six. I've always thought that adding lots of coconut to a dish results in coconut domination but it definitely doesn't. I have read and seen much on the topic of curries and spiced food and just making this one 'stew' has opened up a whole new world of flavours to me. 
I wouldn't say cook this exact dish but rather combine lots of other dishes to get to the curry that suits you. I loved this meal but I'm still perfecting my spice mix.
All That I'm Eating