Sundried tomatoes, paste and pesto always hang around for a bit in my kitchen. I never seem to use a whole tub or jar so am left with trying to find different ways to use them up. And why not mix them with mashed potato! This Baked Aubergine, Halloumi and Tomato Mashed Potato is really rather very good; especially when you get a forkful of everything at once. Great for using up a few odds and ends too and you could easily stretch this to feed four people just by adding an extra aubergine and a few more potatoes.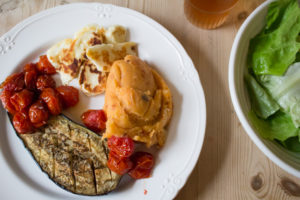 Ingredients
You will need (for 2):
1 aubergine, halved lengthways and scored
Large handful cherry tomatoes
Olive oil for cooking
1 block halloumi, sliced
400g potatoes, peeled and chopped
2 tbsp sundried tomato paste
15g Parmesan, grated
Salt and pepper
Salad to serve
Method
Preheat an oven to 180C. Place the aubergine halves on a baking tray with the cherry tomatoes. Drizzle over a little olive oil, season with salt and pepper and bake for 30 minutes.
Boil the potatoes until they are tender then drain. Mash with the sundried tomato paste, parmesan and some black pepper. The paste should have enough oil in to give the mash a good consistency but if not you can always add a little extra virgin olive oil.
Just before the aubergine and mash are ready heat a frying pan on a medium heat and add the halloumi slices. Fry until golden brown on each side.
Serve everything up together with a fresh salad on the side.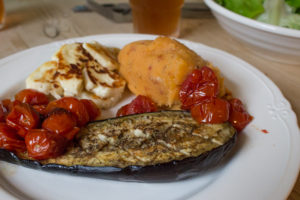 I am on a bit of an adventure at the moment to come up with easy, quick, midweek meals that are tasty, balanced and don't break the bank. I think this meal fits perfectly into those criteria, it used up some sundried tomato paste I had in the fridge and is a great veggie option too. The aubergine, tomatoes and salad mean you're getting three of your 'five a day', it's super summery but also filling and slightly indulgent with the cheese too. When you get a forkful of soft aubergine, sharp tomato, smooth and savoury mash with salty halloumi you can almost imagine your gazing out over the Aegean Sea.