I'm not ashamed. I will admit it. I am an aubergine-aholic. Babaganoush, parmigiana, in a curry, moussaka, stirred through pasta there isn't any meal I don't love which has aubergines in. This recipe may sound familiar, as I have made something similar before, but this miso glazed aubergine when combined with a quick pickled cucumber salad really is a match made in heaven. Depending on the size of your aubergines this takes around half an hour to make, a little longer if they are large and need more time in the oven.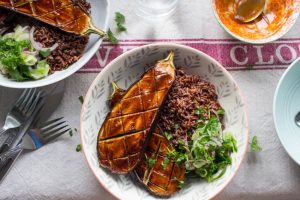 Ingredients
You will need (for two):
For the aubergines
2 aubergines, sliced in half lengthways and flesh scored in a criss cross pattern (don't slice into the skin though)
2 tbsp miso paste (the best you can get your hands on)
1 1/2 tbsp soy sauce
2 tsp runny honey (use agave or maple syrup to make it vegan)
1 tsp water
1 tbsp rapeseed oil
For the cucumber pickle
1 small cucumber, sliced into a strip using a vegetable peeler
1 small red onion, peeled and finely sliced
1 tsp salt
1 tbsp white wine vinegar
1 tsp sugar
1 small piece ginger, finely grated
Few sprigs fresh coriander, roughly chopped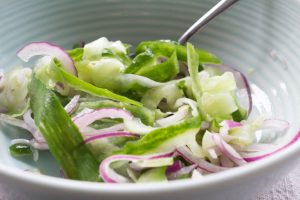 Method
Preheat the oven to 180C and place the aubergines on a roasting tray, skin side down.
Whisk together the miso paste, soy sauce, honey, water and rapeseed oil.
Spread the miso glaze over the aubergines. Place in the oven for half an hour or until the aubergines are beautifully soft and roasted.
While the aubergines are cooking get the rice on to cook according to pack instructions. I find red rice normally takes around 20-25 minutes.
Place the peeled cucumber and sliced onion into a sieve or colander and sprinkle over the salt. Leave to stand over the sink for 15-20 minutes.
Squeeze out any excess water and then put the cucumber and onion into a bowl the vinegar, sugar, ginger and coriander and stir together.
Drain the rice well once cooked and then serve up with the aubergine on top and the salad on the side.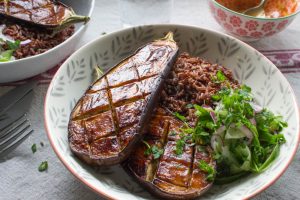 When aubergine is cooked like this it's so smooth and silky and with the sweet and salty glaze it's just fantastic. The earthy flavour of the red rice balances everything out nicely while being really filling. My quick pickle for the cucumber and onion works really well; I was amazed at how the salt takes the edge off the raw onion. The zing and faint heat from the ginger finished everything off perfectly. Getting a really good quality miso for this dish is really important and once you've made miso glazed aubergines once, you'll find them hard not to make again!