I think I'm part Italian. More likely, I like to think I'm part Italian. The reason for this recent realisation is that Italian food is the food I crave the most; when I'm looking for inspiration I invariably turn my attention to that most wonderful of countries. Pasta is the obvious Italian ingredient to inspire meals but the rice dishes, salads, marinades, stews, cheeses, meats and sauces always make me feel like I'm having a little Italian getaway in my own kitchen. This ragu and aubergine pasta bake was inspired by Rick Stein's recent series: Long Weekends. I'm sure my recipe is very different to theirs, I'm bound to have forgotten some ingredients or added others, but the principle is the same; great big, hearty portions of food. It's worth getting hold of some fontina cheese for this pasta bake (more on that later).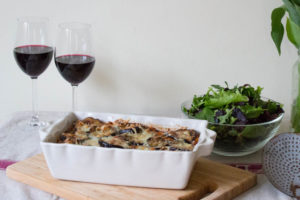 Ingredients
You will need (for 4-6 portions):
3 tbsp olive oil for cooking
2 onions, peeled and roughly chopped
2 carrots, peeled and roughly chopped
2 sticks celery, roughly chopped
4 garlic cloves, crushed
2 bay leaves
4 slices pancetta, finely chopped
500g pork mince
500g beef mince
2 tbsp tomato paste
700ml passata
1 tsp sugar
Salt and pepper
50g Parmesan, grated
200g orzo pasta
2 aubergines, sliced thinly
2 tbsp olive oil
200g fontina cheese, grated
Method
Put the sliced aubergine into a bowl with a sprinkle of salt and leave to one side while you start the ragu.
Start by getting a large saucepan on a medium heat and adding the olive oil. Add the onions, carrots and celery to a blender and blend until finely chopped. If you don't have a blender you can finely chop them by hand (I blend to save time). Add the vegetables to the pan, pop a lid on and leave to soften for 15-20 minutes, stirring occasionally.
Add the garlic and bay leaves to the pan and leave to cook for another five minutes.
Increase the heat slightly and add the pancetta, beef and pork mince. Stir often until the minces have gone brown and any water has evaporated leaving you with a dry-ish mix.
Add the tomato paste, passata, sugar and a sprinkle of salt and pepper. Fill the passata jar up with a little water (about 150ml) and then tip this into the pan. Bring everything to the boil then leave the mix to simmer, with the lid ajar, for around 45 minutes and stir from time to time.
Wipe off any excess salt from the aubergine then add the 2 tbsp olive oil and mix into the aubergine well. You can either bake or fry the aubergine depending on your preference. Frying them gives a nicer finished texture but they can be a little oily and it takes longer to do as it needs to be done in batches. Baking them takes a little longer and the skins don't go quite as crispy. Griddling would be fantastic. Whichever you choose, cook the aubergine slices and leave to one side.
The ragu mix should be nice and thick. Cook the orzo according to packet instructions, drain then stir into the ragu along with the Parmesan. Check the seasoning and adjust if needed.
You can make one big ragu bake or two smaller ones; I opted for two smaller so that I could have the leftovers the next day. Put half of the ragu mixture into the bottom of a baking dish. Put a layer of aubergine slices over the top and sprinkle over a handful of the fontina. Spoon the remaining ragu mix over the fontina then top with the remaining aubergine slices and finish with the remaining fontina.
Bake at 180C for 25-30 minutes until bubbling and golden brown.
Serve with a crisp green salad.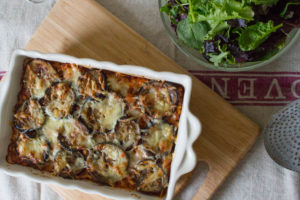 I hope that before you read the recipe you already knew that this was going to be pretty special. It is everything that I look for with hearty Italian food; perfect at this time of year when the days make you crave salad but the evening suggests you need stew. It's a big dish and actually contains five different vegetables (and two cheeses and three meats!) so the flavours are complex and deep. Fontina is the best cheese for this; its low melting point means the inside layers are gooey and stringy but the top goes beautifully crisp and the tangy, slightly sweet flavour of the cheese is unique. You'll need to find a cheesemonger to get hold of some, you can get it online too, it's not easily available on supermarket shelves but once you've found it (and tried it) I think you'll agree it was worth seeking out.