There's a bit of a miso theme on the blog at the moment. For two reasons: firstly, miso is delicious and secondly, it's expensive and you have to buy quite a lot. So I needed to use up my stash and I really wanted to have a go at my own miso roasted aubergine. Most of the ingredients used are pretty standard store cupboard staples; I was pretty amazed how much more than the sum of its parts this recipe is. It's fantastic, if I do say so myself, and my miso glaze and my soy dressing will be making many future appearances in my kitchen.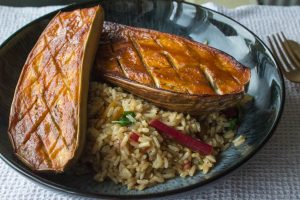 Ingredients
You will need (for two):
2 aubergines (normal purple ones are fine but if you can get stripy or white ones they do look lovely and are slightly smaller)
150g brown rice
5 stalks of chard roughly chopped
For the miso glaze:
2 tbsp white miso paste
1 tbsp soy sauce
1 tsp runny honey (use maple syrup or agave to make it vegan)
1 tsp water
1 tbsp rapeseed oil
For the dressing:
2 tbsp finely chopped red onion
1 tsp pickled ginger
1 tbsp soy sauce
1 tbsp rapeseed oil
Juice 1 lime
black pepper
1 tsp sugar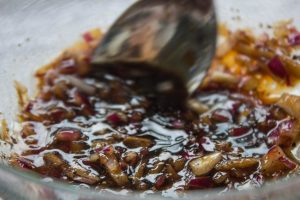 Method
Whisk together the ingredients for the miso glaze. Preheat an oven to 160C.
Cut the aubergines in half then slice through the aubergine flesh, almost down to the skin, in a criss cross pattern. Spread the miso glaze over all the aubergine halves then place in the oven, miso side up, and bake for 40-45 minutes or until the aubergine is beautifully soft.
While the aubergine is baking cook the rice according packet instructions, time it so that it will finish cooking just as the aubergines are ready.
Five minutes before the rice is cooked place the chard in a steamer and steam it above the rice.
Whisk together all the ingredients for the dressing.
Drain the rice and chard then mix them together with the dressing.
Serve in bowls with the aubergine on top.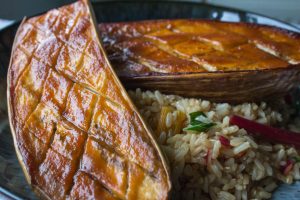 I love this recipe because I can already see how I can change it depending on my mood; adding some finely chopped chilli or a drizzle of sesame oil to the dressing, some toasted sesame seeds would be delicious on top of the aubergine and a little scrambled egg added to the rice would be amazing. The depth of flavour from the miso partnered with a little sweetness is outstanding and with soft, roasted aubergine I think it's fair to say this is a match made in heaven. The dressing is so fresh and vibrant it would be great as a dipping sauce and with a whole host of other salads. Vegetarian, vegan if you don't use honey, comforting, wholesome and healthy, I really hope you give this a try.