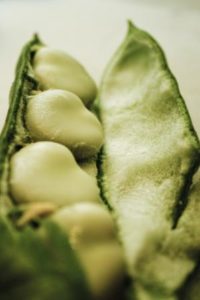 I planted my own broad beans back in February full of anticipation and excitement for that day when I could finally snap the pods from the plant, lightly cook them and enjoy them just as they are. To say I was jealous of the broad beans at the farmers' market is an understatement. I couldn't possibly buy any and cheat on my home grown ones…could I?
Some of my broad beans are at the mangetout stage and I enjoy the occasional one immensely straight from the plant. They've a bit more growing to do before I can make my broad bean houmous. Until then the big, fat, shiny green beans from the farmers' market will keep me going. To make the most of the seasonal ingredients available I cooked up this broad bean, bacon and new potato salad.
One of my favourite things is popping the broad beans out of their fluffy pods. I love the smell. I used around 20 pods if not a few more to get enough beans for this meal. The more the merrier I say.
Ingredients
You will need (for two):
Around 20 broad bean pods
4 rashers bacon
10-12 new potatoes, peeled and quartered (or halved depending on the size)
3 tbsp extra virgin olive oil
1 tbsp white wine vinegar
Fresh herbs, small amounts of each (I used chives and mint), chopped
Salt and pepper
1 small garlic clove, crushed
Method
Remove the broad beans from their pods and boil them in salted water for about 4 minutes.
Keep the water and then boil the potatoes until soft. Drain and put to one side.
When the beans have cooled you can begin one of the most satisfying pursuits imaginable. Squeeze the beans out of their grey, papery cases. Some will come out easily with just a small pinch whereas some require the insertion of a fingernail to get things moving. read more