The first of the season purple sprouting broccoli was standing tall and proud at the Farmers' Market letting us all know that Spring is just around the corner. Everyone
 wanted some of this majestic member of the Brassica family. 
In order to celebrate the first greens of the year there was only one companion up to the job – extra mature Cheddar cheese. To make it a glorious trio I bought some excellent collar bacon. This is one of those recipes where if you don't fancy as much cheese you can leave it out, if you want more bacon put it in or if you have some cauliflower lying around later on in the year it would do just as well.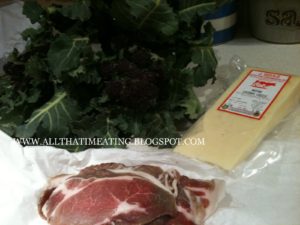 Ingredients
3 bunches of purple sprouting cut into stems and leaves

6 rashers of collar bacon diced

1 wedge of strong Cheddar cheese grated

235g cottage cheese

2 tablespoons single cream

400g pasta

Salt and pepper
I discovered that heating cottage cheese with a stronger cheese is a really quick and simple way to make cheese sauce. I only add the cream to thin the sauce down a little.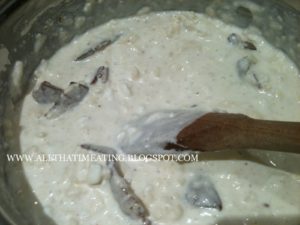 Method
Put two pans of salted water on to boil (one each for the pasta and the broccoli) while you cook the bacon. Fry the bacon until really crispy and put to one side.
Next, put the cheese, cottage cheese, cream and plenty of black pepper into a saucepan on a medium heat stirring continuously. It might look really thick at this point but it will thin and the lumps will disappear.
At the same time, put the pasta into the boiling water. Depending on the cooking time of your pasta, cook the broccoli separately for 3 minutes so they are both ready at the same time. Drain the pasta and broccoli.
If you want the sauce to be thinner you can mix in a little of the cooking water from the broccoli – it gives it a bit more flavour too.
Mix the bacon into the cheese sauce and pour over the broccoli and the pasta.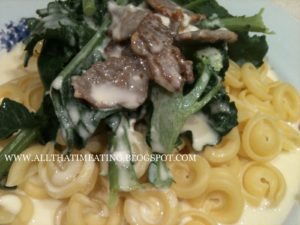 The elegant leaves of the broccoli almost act as spoons to catch the cheese sauce. It was a warming, hearty filling way to make best of this vegetable. If you have any cheese sauce left it's great for dunking crusty bread. 


All That I'm Eating