Apparently I have become a magnet for books and other similar reading materials. Old and new, modern and traditional, there is not a manuscript that passes me by without a glance or sometimes a purchase. Because of this new exponential accumulation I needed to reorganise and rearrange my boudoir in preparation for a charming new bookcase I had clapped my eyes upon. I wrestled with the idea of what to have for dinner and I knew this rearrangement would take many hours. Do I have a quick sandwich and feel an intense sense of disappointment or…Quick cheats risotto and roasted veg.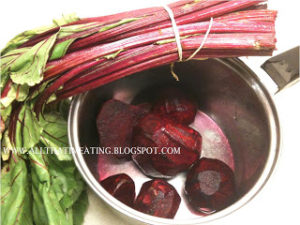 Ingredients
What you will need (for 2)
Beetroot, peeled and boiled for 20 minutes
Peppers, halved
Tomatoes, halved,
Garlic cloves whole
Oil, white wine vinegar, balsamic vinegar, oregano, bay leaves, salt and pepper
Onion, chopped
Garlic, chopped
Bacon, cut into pieces
Wild rice, one handful per person
Oil, butter, stock, herbs of your choice, salt and pepper
Method
My reasoning for this was that while the veg roasted in the oven for near enough an hour I could at least make a slight headway on my room. And so after boiling my beetroot I put them on a baking tray with a little olive oil, a bit of vinegar (depending on how vinegary you want it), a little oregano and seasoning. These beetroot came from the lovely man at the farmers' market who also provided the aforementioned marrow.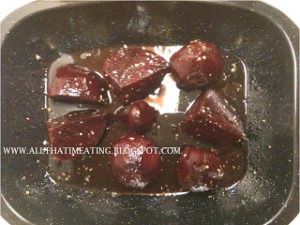 It was a similar fate for the peppers and tomatoes. Put them all on a baking tray and cover with olive oil and the white wine vinegar. Snuggle a few garlic cloves and bay leaves amongst the sea of lycopene and season. Put both of the trays in the oven at 180C and set the timer for 50 minutes. Spend this time at your leisure.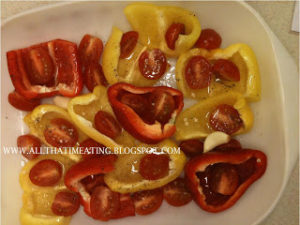 About 10 or 15 minutes before the vegetables are ready start to make the 'risotto'. This is a recipe I stole from my mum. It is not a traditional one but a really easy, filling, savoury meal that takes such a short time to cook. I was lucky enough to find some seriously good bacon from Dews Meadow Farm in my fridge and I cut it up with the onion and garlic. Put some butter and oil in a saucepan and fry the onion and garlic until a little softened and then add the bacon. Cook this until it's slightly browned and then stir in the rice until it's nicely coated in the oil.
Pour in the stock until the rice is just covered and sprinkle in herbs and seasoning. Put a lid on at a jaunty angle to keep the heat in but let some steam out. Give it a stir from time to time but really it's best left to its own devices. When all the stock has been absorbed (about 8-10 minutes) I like to give it a quick try to make sure the rice is soft and not bullet proof.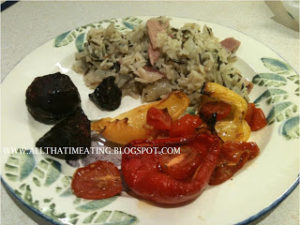 Quick, easy, delicious dinner with local ingredients – some tomatoes exceptionally local as they were from the garden!