This is another cheap and cheerful recipe that was recently discovered. Again, it feeds two for less than £3 and counts as two of your five a day. My recipe for gnocchi with bacon, broccoli and creamy garlic sauce is quick, easy and frugal too. It's really creamy and just what you need when you're craving a dauphinoiseque meal.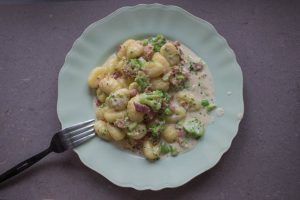 Ingredients
What you will need (for two people):
Small head of broccoli – 35p
Total price: £2.63
Method
Cut up the garlic, onion and bacon and fry it all till it's nice and brown. I add the garlic in a little later on so it doesn't burn. While you are doing this, put some water on to boil and cut up the broccoli into little florets. When they have been boiling no longer than 2 minutes, take them out and put them in with the bacon mixture over a low heat.
Keep the broccoli water boiling (it will have a greenish tinge) and then cook the gnocchi in this for 2 or 3 minutes or until they float. While they are cooking, pour the cream into the bacon/broccoli combo, season and let it reduce slightly.
Put the sauce into the pasta or the pasta into the sauce. I find whichever pan is bigger is best. Lovely jubbly. Dinner for less than £3 for two people in less than 10 minutes!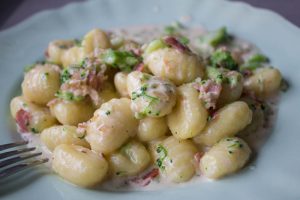 None of these ingredients were the best or organic and I'm sure if they were it would make the meal even tastier but as it were, this was something I am going to make on a regular basis.
There's plenty of double cream in it…but you only live once.